NU Online News Service, Feb. 16, 11:56 a.m. EST
State Auto Financial Corp. ended 2011 in the red, as the Columbus, Ohio-based insurer endured record catastrophe losses of $231.1 million for the year.
The super-regional P&C insurance holding company reports a net loss of $146.8 million for 2011 to end what its top executive called a "difficult year."
The company gained $24.5 million the prior year. Its combined ratio for the year climbed to 116.3, compared to 104.6 in 2010.
"Our policyholders and shareholders suffered historic losses primarily from the tragic storms in April and May," says Bob Restrepo, president, chairman and chief executive of State Auto, in a state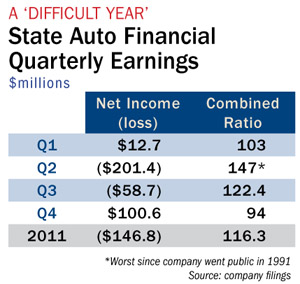 ment.
The months were laden with devastating thunderstorms and tornadoes. Restrepo says State Auto has closed about 93 percent of the 35,000 claims incurred.
To deal with historic loss trends, State Auto turned to the reinsurance market for a homeowners' quota-share treaty because price increases of 30 percent over the last three years haven't helped.
The homeowners' quota share reinsurance arrangement and amended pooling agreement was to blame for a 54.3 percent decrease in 2011 fourth-quarter net written premium because ceded unearned premium reserve amounts transferred in the two transactions are reflected in net written premium, State Auto says.
The company reports 2011 net income in the fourth quarter of $100.6 million compared to $37.6 million during the same three months in 2010.
"Large loss activity moderated as our new casualty-claim process has matured," Restrepo says. "Price per exposure increased in personal and specialty lines and remained flat in standard commercial, but we expect to see modest increases across the board for 2012, with double-digit increases in homeowners."
The chief executive says claim actions in property, auto physical damage, casualty, and workers' compensation should improve ex-catastrophe loss ratios.