Allstate Corp. saw its fourth-quarter net income jump 145 percent, while W.R. Berkley, ACE Limited, CNA and Validus reported Q4 net-income decreases along with global reinsurer Munich Re.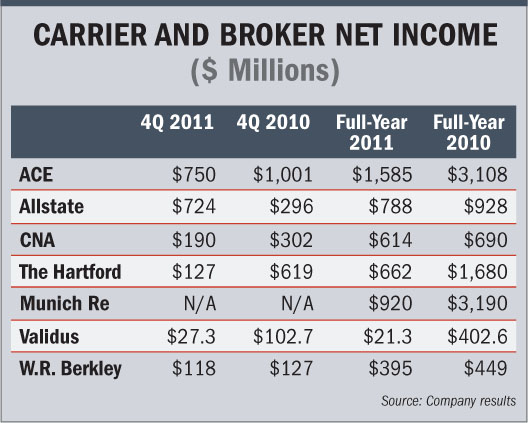 Allstate says it saw improved profitability in its insurance business and solid performance in its financial segment. Its fourth-quarter net income increased by $428 million to $724 million.
For the year, net income dropped 15 percent, or $140 million, to $788 million.
The company's combined ratio improved 10.1 points to 90.7 in the quarter but rose 5.3 points to 103.4 for the year as a whole.
For Allstate's financial segment, the company reports fourth-quarter net income of $140 million, an increase of 84 percent or $64 million. On the year, financial-segment net income rose $528 million to $586 million.
The Hartford's 2011 fourth-quarter net income plummeted 79 percent to $127 million on above-normal catastrophe and non-cat losses, low interest rates and volatility in the capital markets.
Net income for the year fell 61 percent to $662 million.
Hartford President/CEO Liam E. McGee said during a conference call that the P&C commercial market saw firming "across the board" in the fourth quarter, with a 7 percent increase in middle markets. The acceleration of rate increases during 2011's last quarter "exceeded loss costs for most lines," he added.
The company's results in its commercial-markets segment were hurt by higher Workers' Compensation loss costs, which drove up the combined ratio in the segment to 101.5 (excluding catastrophes and prior-year development).
Income in the fourth quarter was reduced by net prior-year reserve strengthening of $64 million in commercial markets, consumer markets and other operations. Hartford also upped reserves in the Workers' Compensation line for the 2010 accident year.
Hartford strengthened current accident-year reserves by $57 million.
Results were more favorable in the company's consumer-markets segment, which recorded fourth-quarter net income of $85 million compared to $30 million during the same period in 2010. The combined ratio there was 93, from 96.8 in Q4 2010.
Hartford management is performing what McGee described as an "objective and pragmatic" review of the company—"thoroughly and rigorously" looking at ways to deliver shareholder value. One option being considered is splitting its life and P&C companies.
Greenwich, Conn.-based insurer W.R. Berkley says 2011 fourth-quarter net income was down 7 percent to $118 million, primarily due to increases in losses and loss expenses, in addition to operating costs and expenses. But the company's chief executive says rate increases are taking hold and 2012 looks to be a better year.
W.R. Berkley's combined ratio rose 2.7 points in the quarter to 96.8.
For the year, net income dropped 12 percent, or $54 million, to $395 million compared to 2010. Revenues increased 9 percent, or $432 million, to $5.2 billion.
The company's combined ratio for 2011 increased 3.8 points to 98.3.
During a conference call with financial analysts, CEO William R. Berkley said many insurers underpriced risk during accident years 2008 and 2009 and have yet to begin feeling the pain from that underpricing—which in turn will increase the pressure on the industry to ramp up rates.
Bermuda-based ACE Ltd. says its 2011 fourth-quarter net income fell 25 percent to $750 million, as catastrophe losses more than doubled compared to 2010's fourth quarter, when net income was $1 billion.
Fourth-quarter catastrophe losses were $155 million, with $117 million stemming from Thailand floods, compared to $50 million in catastrophe losses in Q4 2010.
For the year, ACE reports net income of $1.6 billion, compared to $3.1 billion in 2010. Again, catastrophe losses, at $899 million, were significantly higher in 2011 compared to 2010, when catastrophe losses were $401 million.
Chicago-based insurer CNA says 2011 fourth-quarter net income dropped 37 percent to $190 million on the combination of lower net-investment income, catastrophe losses and reserve charges in its life business. The combined ratio for the company improved 2.4 points to 87.2.
For the year, the company says net income dropped 11 percent, or $76 million, to $614 million. The combined ratio rose 3.6 points to 98.4.
Munich Re, reporting its annual results, says it recorded 2011 profits of €710 million ($920 million), down from €2.43 billion ($3.19 billion) in 2010. CFO Jörg Schneider says the number is a "respectable profit given the exceptional burdens."
Validus Holdings Ltd.'s fourth-quarter net income available to shareholders plummeted more than 73 percent to $27.3 million, as insured losses from catastrophes continued to take their toll.
For the year, Bermuda-based Validus says net income available to shareholders was down 94.7 percent to $21.3 million.
The company's combined ratio soared to 97.4 in the quarter, up from 67.7 a year ago, and rose to 99.4 for the year, up from 86.2 in 2010.