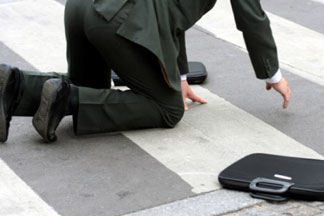 Why is business travel accident insurance a good idea for your clients?
President John F. Kennedy said, "When written in Chinese, the word 'crisis' is composed of two characters. One represents danger and the other represents opportunity." In today's global business climate, in which the pursuit of opportunity results in increased employee travel to some of the most dangerous regions of the world, agents and brokers have an opportunity to mitigate their clients' risks by providing them with a comprehensive business travel accident insurance plan.
Following the financial crisis, cash-strapped companies cut discretionary travel funds, resulting in an extended slump in work-related travel. According to the Global Business Travel Assn., however, business travel spending in 2011 was up by 6.9 percent and is expected to see continued growth in 2012. While both domestic and international travel affords businesses substantial growth opportunity, it also means that companies face further exposure to costly risks and liabilities.
This potential increase in business-related travel comes at the tail-end of a year marked by global unrest. In 2011, violent revolts spread throughout the Middle East, including Egypt; the UK saw the worst riots since the 1980s as three cities were set ablaze, stores looted, and officers attacked by enraged youth; and the Wall Street protests splintered from New York to a number of other U.S. cities. As long as business continues to operate in a global arena, business travel accident insurance will be an integral component of business insurance coverage.
Nearly half of the respondents in a recent Chubb survey said they would refuse to go on a business trip to a location they consider dangerous unless their employer provided them with emergency medical and other services. Twenty-three percent said they would refuse to go on the business trip; 21 percent said they go but would refuse to go on the next trip; and 14 percent would go but look for a new job after returning.
However, 42 percent said they would take the trip if their employer provided access to reliable emergency medical services, while 47 percent would travel if their employer provided pre-travel information about the country, and 38 percent would take the trip if their employer provided access to legal assistance abroad.
Costly evacuations
Geographical location directly determines the costs associated with evacuations. If someone is in an easily accessible area, the average medical evacuation is approximately $50,000, while evacuating someone from a remote location could be an expense upward of $200,000.
Additionally, if the person is in a country with insufficient medical care and has to be transported to another country, or they are in poor health and need a nurse or physician to travel with them, the cost inevitably increases.
Despite the fact that evacuations due to political unrest result in less of a financial burden than those for medical evacuations, averaging only around $5,000, the evacuation cost from identified high-risk countries in the Middle East, Africa, or South America, among others, could be significantly higher. Maneuvering in and out of politically unstable areas requires skilled manpower and often costly transportation.
Consider the following scenario: In early 2011 when riots broke out in Cairo, 19 American college students and professors were cut off from the world after the government shut down the Internet and other communication channels due to the widespread protests and chaos. The group wondered if they would make it out alive. Fortunately, they had purchased a business travel accident policy that included travel assistance services that made a speedy evacuation to Paris possible at a cost of approximately $45,000. While rescuing an employee from a precarious political situation is not as costly or frequent as extricating for a medical emergency, it continues to present great loss potential to entities that must continue conducting business during high risk times.
Or think about kidnapping risks. Rebels in countries that are in the throes of political or civil tension, as well as highly organized crime units in depressed areas, often target foreigners as easy pawns for both monetary and political gain. When an employee is held for ransom or kidnapped, business travel accident insurance covers associated expenses, which may include ransom-demand payments, lost salary for the insured person, and lodging, transportation and meal expenses for an immediate family member of the kidnapped victim.
How to convince your clients
Agents should take the opportunity to present accident & health products when they are in front of decision makers at firms. Here are three factors to consider when trying to convince clients to buy the products:
Access: In most cases a human resources professional, risk manager or office administrator is the main point of contact at a company for an agent or broker, while the CFO ultimately determines which policies are indispensable and which aren't. Therefore, cultivating your relationship with these representatives is fundamental to gaining access to a decision maker like the CFO.
Education: Once you have gained access to the decision maker, educating them on the many risks of business travel, from medical evacuations to kidnappings, will help to inform them about what types of exposures their employees face, noting that not all situations are as obvious and dire. Businesses can face much exposure from employee negligence. According to a recent Chubb Travel Survey, nearly 40percent of those surveyed don't carry an extra supply of their medication and only 38 percent said they carry copies of prescriptions with them, increasing the risk of needing to see a doctor and/or fill a prescription during work-related travel.
Filling in the gaps: When approaching a client about a business travel accident policy, be prepared for your client to say "but we have workers' compensation." The most important thing to remember is that business travel accident insurance is not a substitution for workers' compensation, but its own unique coverage that helps to create a comprehensive plan, which can provide travel assistance and identify theft services, evacuations, and kidnap and ransom benefits. In addition, often people traveling for business will extend their business trips into leisure-related travel, at which point the employee may no longer be covered by workers' compensation. Therefore, if he or she or an accompanying family member falls ill during that time, the company's business travel accident insurance will fill this gap in coverage, protecting them against any liability exposure.
When talking with decision makers, explain that business travelers do have concerns about risks. The same travel survey showed that 61 percent of travelers would be concerned about locating a qualified doctor in the case of an emergency if traveling overseas and more than 50 percent would want to know where to find a trustworthy translator to assist with medical and legal issues. Help them to ease their employees' concerns by providing a comprehensive travel accident plan, which includes travel accident insurance and assistance services.