Standard & Poor's Ratings Service warns that signs are pointing to more unprofitable years for the U.S. Workers' Compensation insurance market, and downgrades could be in the future if no improvement is shown.
In its ominously titled report released Jan. 23, "For the U.S. Property & Casualty Industry, Making Workers' Compensation Profitable May Be Mission Impossible," S&P says high unemployment in the United States, a sluggish economic recovery, potential for higher inflation on future claims payments, adverse reserve developments and a volatile investment environment with historically low investment yields could add up to many years of unprofitability for the Workers' Comp industry.
S&P says the Workers' Comp segment has a "dismal track record of underwriting results," and notes that the industry has only three years of underwriting profits in the past two decades: 1995, 1996 and 2006.
Although many P&C insurers, especially those writing Workers' Comp, rely on investment income to offset underwriting losses, current historically low investment yields could further erode profitability.
In light of these factors, S&P says it remains "bearish" on Workers' Com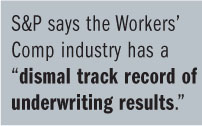 p since this line has a significant number of negative factors that have created adverse market conditions—and the pockets of rate increases in a few states are not enough to change the overall unprofitable direction of the market.
Workers' Comp pricing showed a modestly improving trend in the latter part of last year. If it persists, it could potentially lead to industry-wide rate improvements for many casualty lines. However, S&P says it is unsure whether the current pace of rate increases in Workers' Comp will be sustainable over the next few years and, if so, whether it will be sufficient to overcome increased loss costs.
Workers' Comp reserves will remain inadequate over the next few years, S&P adds, despite expectation of strengthening for 2007-2010 accident years.
S&P notes that it closely monitors quarterly reserve developments for all P&C insurers, especially those with a concentration in longer-tailed casualty lines, such as Workers' Comp, General Liability, Professional Liability, Product Liability and Excess Casualty, among others.
If certain P&C insurers substantially strengthen their reserves—especially for recent accident years—such that their operating earnings fall materially below S&P's expectations, the agency says it would consider lowering some ratings.