NU Online News Service, Jan. 24, 1:34 p.m. EST
The good news for property and casualty insurers is that 2012 should see positive rate momentum. The bad news is that insured-exposure growth will not likely be a contributing factor to premium growth, according to a Keefe, Bruyette & Woods analysis.
In its report, "Premiums in 2012: Don't Look at Insured Exposure Growth for Much Help," KBW says, "In 2012, we expect industry premium growth to approach the mid-single-digit range due primarily to positive rate momentum. We do not expect insured-exposure growth to contribute much to the premium base as economic fundamentals remain weak."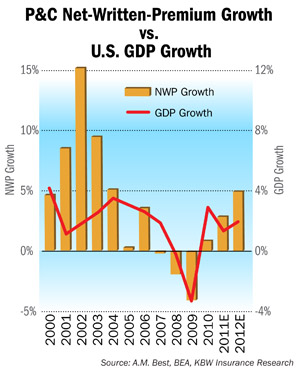 In particular, KBW says it remains cautions on the premium-growth prospects for insurers that write business "heavily dependent on the economy, such as monoline workers' compensation writers, or more competitive lines of business, such as personal insurance.
KBW also says the "haves" should separate from the "have-nots" in 2012, with some franchises positioned to take market share from others through profitable organic-growth opportunities.
The report breaks out certain lines of insurance and discusses premium-growth prospects in those lines. For private-passenger auto, which made up 35 percent of direct premiums written in 2010, and commercial auto, which represented an additional 5 percent in 2010, KBW says fewer automobiles are being insured today.
"We would not expect such trends to change dramatically in the near term, even in the context of improving economic-news flow," KBW says.
For homeowners insurance, which made up 15 percent of direct premiums written in 2010, KBW says fewer homes are being insured today, and housing-market fundamentals remain weak. "One glimmer of hope," KBW says, "is that home prices in select markets have stabilized, following the steep declines of 2008."
For workers' compensation, which made up 8 percent of the industry's premium volume in 2010, KBW says payrolls remain "well below peak levels," although they are bouncing back from lows seen in 2009 and 2010.
The report states, "While payrolls have stabilized and audit-return premiums have been declining, an indicator that insurers now have a better grasp on current payroll levels, we do not expect significant near-term improvement in employment trends capable of substantial exposure growth (higher payrolls)."
Despite the bleak outlook for these lines, KBW says rate momentum in these lines will offer premium-growth opportunities. However, the firm adds that it expects loss-cost trends to "closely follow rate increases, resulting in little improvement in underwriting results."