NU Online News Service, Jan. 23, 2:50 p.m. EST
Securities class-action lawsuits edged up slightly in 2011, primarily driven by mergers and acquisition filers, however the total number of actions remained below average for the third year in a row, according to aStanfordLawSchoolreport.
The "Securities Class Action Filings—2011 Year in Review," prepared by Stanford Law School Securities Class Action Clearinghouse along with Cornerstone Research, says there were a total of 188 federal securities class actions filed in last year. This was up from 2010 when there were 176 filings. In 2009, there were 167 filings.
However, the figures are still below the 223 that took place in 2008 and below the average of 194 when measured during the period 1997 to 2010.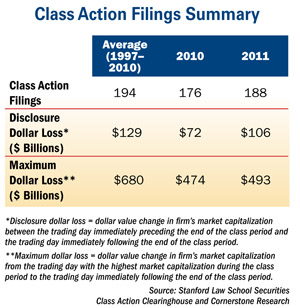 "While the number of securities class action filings in 2011 increased slightly compared with 2010, the number of filings and the associated market capitalization losses are still well below historical levels," says John Gould, senior vice president of Cornerstone Research inBostonin a statement.
"This corner of the litigation market continues to run at a pace well below historic norms," says Joseph Grundfest, director of the Stanford Law School Securities Class Action Clearinghouse.
Grundfest notes that among the two major contributors of securities class action law suits—litigation against Chinese issuers that entered theUnited Statesmarket through reverse mergers, and financial crisis claims—are both beginning to see declines.
He says that the growth in merger-related litigation that was historically brought in state court inflated the statistics.
"Taken together, these data suggest that there are far fewer claims of traditional securities fraud byU.S.issuers than has been the case since the mid-1990s," says Grundfest.
Gould notes that class action in S&P 500 companies was at its lowest level since it was tracked beginning in 2000.
The report says slightly more than 3 percent of S&P companies were subject to securities litigation filings in 2011. The average is just over 6 percent. That works out to one out of every 31 companies in the S&P 500 index getting hit with a securities suit. The average is one in 16 between 2000 and 2010.
Among other findings:
Filings from the credit crisis declined, with only three in 2011 as opposed to 53 in 2009.
The percentage of filings against foreign issuers rose to more than 36 percent compared to the average of just over 13 percent. The increase was attributed to the number of suits filed against Chinese firms.
Since 1998, after passage of the Foreign Corrupt Practices Act, which makesU.S.companies liable for penalties from acts of bribery overseas, there have been a total of 25 private class actions with FCPA allegations. In 2011, there were four such actions.