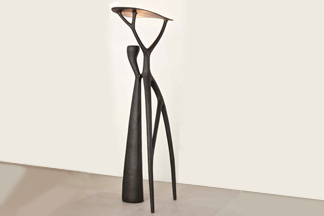 The Situation
An adjuster called in contents specialists to consult on a claim for a large-scale damaged sculpture by an artist based in London. One night while eating dinner, the insured heard a crash from the living room. Upon entering the room, the policyholder found the sculpture damaged, lying on its side. The insured claimed the documented total purchase cost, including shipping, was approximately $28,000. But was that accurate?
Case Background
A London-based artist had created the sculpture in 2010. It is of complex construction, composed of a combination of materials including plywood, steel, jesmonite, glass fiber, bamboo fiber, marble powder, graphite, lacquer, and wax. It measures 7.5 feet tall.
Contents specialists contacted the artist and secured his cooperation to consult with the U.S.-based conservator on the cosmetic restoration. However, the artist had concerns about the structural damage to the sculpture and because of the unique construction of the piece, doubted if anyone, other than himself, would be able to properly address the structural issues. Taking the artist's viewpoint in mind, the contents specialist team concluded that repairs by someone other than the artist would result in diminution of the sculpture's value.
To see what happened, click "next"
The Result
The contents team was not only able to engage the original artist to discuss repair, but also was ultimately able to secure agreement from the artist to have him completely recreate the damaged sculpture in its entirety. This approach eliminated any question of structural integrity and potential copyright issues surrounding the Visual Artists Rights Act (VARA), as well as any claim of diminution of value for a fraction of the original purchase price.
Even with the cost of shipping the recreated sculpture across the pond, this matter was concluded for $11,000 to replace the insured's beloved art.