NU Online News Service, Jan. 17, 1:16 p.m. EST
Countries prone to earthquakes remain underinsured, reveals a new report from Swiss Re.
The insurance industry's contribution to rebuilding efforts differs dramatically from country to country. For example, about 80% of economic losses in New Zealand are covered by insurance but as little as 12 percent of economic losses from Japan are covered, according to Swiss Re report, "Lessons from Recent Major Earthquakes."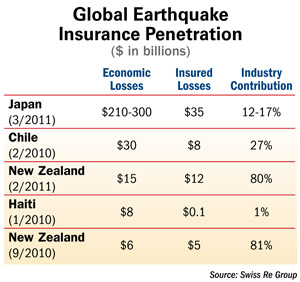 Commercial properties are particularly underinsured in Japan, Swiss Re finds.
"The low frequency of earthquake events, compared to other natural catastrophes, tends to shape the perception that earthquake risk is much lower than it actually is, even in places where there have been very deadly and damaging occurrences, like California," points out Lucia Bevere, senior catastrophe data analyst at Swiss Re Economic Research & Consulting.
Bevere co-authored the report with Balz Grollimund, head of earthquake perils at Swiss Re.
Grollimund says recent earthquakes reveal lessons for underwriting. Though models are typically accurate in predicting damage immediately following an earthquake, secondary loss factor like business interruption and liquefaction "add to the complexity of claims assessments for major earthquakes," he says. "These factors should be considered more comprehensively in earthquake models."
Without insurance coverage, losses from earthquakes will ultimately be borne by taxpayers after government intervention and loss financing.
According to current estimates, claims from earthquakes in 2011 broke a world record, exceeding $47 billion. Economic losses in 2011 from earthquakes total more than $226 billion.