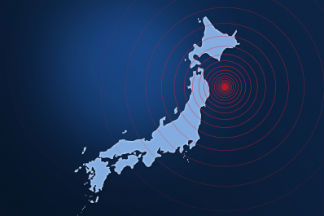 NU Online News Service, Jan. 4, 2:49 p.m. EST
It probably comes as little surprise that 2011 was significant in terms of insured losses from catastrophes, but the loss figures have less to do with the number of events as where they took place, according to industry representatives.
In a webinar sponsored by Munich Re today, industry representatives said the 2011 catastrophe season was close to average in the number of events, but produced some very expensive claim events.
"It is a combination of a strong event causing a lot of physical damage with the coincidence that these regions in 2011 were regions with high-insurance penetration, that caused these high losses," notes Ernst Rauch, head of corporate climate center for Munich Re.
The year produced $380 billion in global economic losses and $105 billion in insured losses, according to Munich Re's figures compiled through its NatCatSERVICE. The number of events for the year, 820, was just slightly above the average of 790 over the last 10 years and 630 for the last 30 years.
When compared to the previous year, 2010 was more active in terms of number of events, 970, and fatalities (296,000 in 2010 compared to 27,000 in 2011). However, insured losses only came to $42 billion and economic loss to $152 billion.
Unlike years past, most of the 2011 insured losses occurred in theAsiaregion, primarily the result of the Tohoku earthquake and subsequent tsunami that caused $40 billion in insured losses. Added to that were the earthquakes inNew Zealandand flooding inAustraliaandThailand.
Asia accounted for 44 percent of worldwide losses and theUnited States37 percent. On average, theUnited Statesassumes 66 percent of insured losses whileAsiasees 13 percent.
Carl Hedde, senior vice president, head of risk accumulation for Munich Re America, Inc., says that thunderstorm activity in theUnited Statesthat produced numerous tornadoes was to blame for a significant share of losses. Thunderstorm and tornado activity was the deadliest since 1975, exceeding $25 billion in insured losses of the total $35.9 billion for the year.
There were a total of 69 severe thunderstorm events claiming 617 lives in 2011, while tropical cyclone activity, that is usually the major driver of loss, saw three events that amounted to estimated insured losses of $5.5 billion.
It was a "very extreme year" in terms of catastrophe losses from climatic events in theUnited States, notes Robert Hartwig, president of the Insurance Information Institute. The year saw a record number of federal disaster declarations at 99, and if taken as a whole, the spring 2011 tornado and severe storm season would be ranked as the fourth most costly disaster event inU.S.history, Hartwig says.
ForU.S.insurers, the losses increased their combined ratios to 108.2 over the first three quarters, compared to a combined ratio of 100.8 for all of 2010.
Hartwig says that most excess capacity has been removed from the market producing net premium written growth over the past six quarters, a change from the declines seen in the previous years.