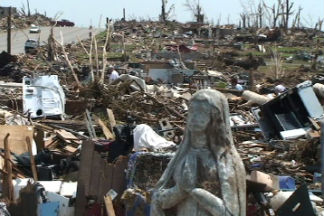 NU Online News Service, Dec. 20, 10:21 a.m. EST
Missouri regulators say a judge has approved a proposal to allow Missouri Farm Bureau to assume the operations of three insurers made insolvent by the May tornado in Joplin.
"This is a win for all involved," says John M. Huff, director of the Missouri Department of Insurance (DOI), in a statement. "Policyholders' claims will be paid and Missouri taxpayers will not have to foot the bill."
According to the state Department of Insurance, Financial Institutions and Professional Registration, the three now-defunct insurers—Barton Mutual Insurance Co., Gateway Mutual and Cape Mutual—had combined premium sales of $29 million from 41,000 homeowners and fire policies in 2010, but reported claims of $48 million after the Joplin tornado.
The companies, known as "county mutuals" or "farm mutuals" that serve rural residents, were part of the Barton County Mutual Group. They were put into receivership on Dec. 1.
A Barton County, Mo. judge approved the proposal by the DOI, allowing the three companies to merge into one managed by Farm Bureau, which is the state's seventh-largest homeowners' insurance company and ninth-largest auto insurer.
"The Joplin tornado was a devastating event that resulted in property losses that were too much for the companies to handle," says Blake Hurst, president of Missouri Farm Bureau, in a statement. "We will work to ensure that policyholder claims are paid and all policyholders' coverage is continued."
Under the plan, Farm Bureau will invest about $14 million in surplus notes to restore the companies' surplus. The notes will be backed by the Missouri Property and Casualty Insurance Guaranty Assoc. The new company must also buy adequate reinsurance, determined by the DOI.