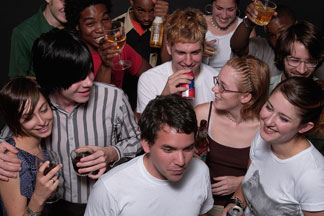 According to a New York Times report, Penn State, its administrators and staff could potentially be the targets of civil lawsuits seeking $100 million in damages. In addition, investigators have visited the Penn State campus for a Clery Act investigation. Named for a raped and murdered Lehigh University student, this act requires colleges and universities participating in federal financial aid programs to record and disclose information about crime that occurs on and near campus.
We consider the situation at Penn State to be in its own category. Even in light of subsequent allegations at Syracuse University, scandals of equal magnitude are the exception rather than the rule. Yet many universities are potentially at risk on an everyday basis through actions of negligence and benign neglect. Regarding the Clery Act, they may also be at risk of a failure to document and report criminal acts.
Fraternity parties. Because many fraternity houses are off campus, college administrators have adopted a policy of benign neglect regarding weekend parties. Owing to their geographic location, these houses are beyond the university's jurisdiction and control. However, the school will be at risk should an intoxicated student later injure himself or herself after returning to school property. Of course, the school's risk will be far greater if the student dies of alcohol poisoning while on school property.
By locating fraternity houses off campus, universities may be lulled into believing they have properly managed risk. But what may appear to be risk transference is actually risk once removed. It can be compared to kicking the can down the road.
Of course, this unsettling narrative can proceed in any number of risky directions.
What if, after leaving the party and being involved in a vehicular homicide, it is proven that the student had begun drinking while on school premises during an "all-dayer"?
What if an inebriated student or group of students damages personal property or injures himself or another student after returning to campus? What if the injuries are incapacitating, and the student's parents sue the university for life long support?
What if a minor friend of an enrolled student returns to a college dorm, where she has sex with another enrolled student? What if the "unwitting" perpetrator who is accused of statutory rape countersues the university, because a guard had not been posted at the dormitory entrance to check student IDs? Of course, he could find himself in a long line of litigants.
On-campus alcohol consumption. Although alcohol possession and consumption are forbidden in most college dormitories, its possession and use are widespread. In an instance of personal injury or even death, the university will regret its lax enforcement policies.
Sports events. These occasions for alumni and current day students to achieve emotional symbiosis can be tricky. Sports events, at their best, help students to catch school spirit that will someday result in lasting financial support. However, students who get caught up in an excess of school spirit can potentially endanger themselves and others. Add alcohol or drugs to the mix and the situation can become far riskier.
Campus security guards must be given clear guidelines regarding appropriate levels of school spirit and permissible behavior. In addition, campus security must have sufficient boots on the ground and adequate resources if the mix appears to be tipping in the wrong direction.
School vehicle usage. Students who use school vehicles to transport other students to school activities merit careful consideration. Because universities are potentially one accident away from charges of vicarious liability, student drivers should be screened for previous violations and psychological issues.
For many students, campus living represents the first time they are outside their parents' daily guidance. To a large degree, they become responsible for their own actions. It becomes the university's responsibility to help students realize with this freedom comes a long list of their own responsibilities.
In addition to asking students to read a classic text before arriving for class in the fall, they should be required to read and sign the university's behavioral contract. For many students, this will be a real learning experience. They haven't been adults before, and haven't had so great an opportunity to get into trouble.
In better managing its own risk, the university will be helping students who have been placed under its care to learn how to better recognize and manage their own risks. In addition to being sound risk management, this is a moral obligation.