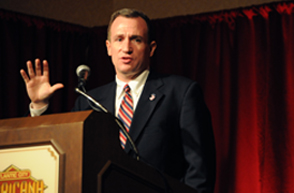 NU Online News Service, Dec. 1, 10:08 a.m. EST
EAST BRUNSWICK, N.J.—In the aftermath of a catastrophe, recovery will require the government and the private sector to work together with one goal in mind—getting back to a normally functioning society as soon as possible, say experts.
State officials and private sector executives gathered here Wednesday for a panel discussion on the topic "From Catastrophes to Reinsurance." It was one of five break-out panel sessions sponsored by the New Jersey Department of Banking and Insurance during its first Commissioner's Insurance Symposium sponsored by the department and hosted by Commissioner Thomas B. Considine.
Lt. Col. Jerome Hatfield, deputy superintendent of homeland security for the New Jersey State Police, says state and local officials need to partner with the private sector and learn from one another about how to address the needs of business and the state's residents in the aftermath of a catastrophe.
Government has taken steps to prepare for a catastrophe, he says, including an employee credential program for private sector personal. The program issues credentials to employees deemed essential to recovery and need to get to their jobs during a state of emergency.
However, Hatfield says officials know they do not have all the answers and are seeking a dialogue with insurance company executives to understand their needs and aid them during the recovery efforts.
Most importantly, he says, state officials are not thinking in terms of a catastrophic crisis that will end in a few months, but one that requires individuals and municipalities to become self-reliant for an extended period of time.
"I believe we are at our infancy in how to entertain a true crisis that others have had the experience to deal with for years," says Hatfield.
Joe Picciano, deputy director of preparedness for the New Jersey Office of Homeland Security and Preparedness, says officials have reached out to various businesses in the private sector to understand what is needed to get their business back in operation and the state back on the road to normalcy.
Realizing the tremendous role insurers play in getting capital into the hands of policyholders, Picciano says the department needs further dialogue with insurers to understand what they need to do their job.
Getting good, timely information between the government and the private sector will be essential to avoid making a catastrophic situation even worse, says Lori Hennon-Bell, vice president and chief security officer at Prudential Financial, Inc. and chair of the Financial Services Sector Working Group.
A former New Jersey State Police lieutenant colonel in charge of Homeland Security, Hennon-Bell notes she has a "very unique perspective" with both government and private sector experience about what needs to be done in the aftermath of a catastrophe.
Touching on how catastrophe exercises help prepare officials, she says the exercises have focused on the first 24 hours after the event. She says what is needed is to go beyond that period and understand the long-term needs and consequences for both government and business to get back up and running.
Zeroing in on the preoccupation with catastrophe models to determine the total extent of loss, Karen Clark, president and chief executive officer of the risk modeling firm Karen Clark and Co., says when it comes to anticipating loss, planners and underwriters need to get away from just assessing risk from loss model calculations and become catastrophe risk managers. She says the examination of risk needs to involve more than probably maximum loss, and must consider other events not included in catastrophe models such as flood and business interruption.
She emphasizes that catastrophe models need to be used as one piece of an overall catastrophe risk management program and needs to include extensive scientific data and other tools that help companies better prepare for recovery.
Touching on the need for reinsurance, John Mulhern, partner in the law firm of Dewey & LeBoeuf, and Richard Schlesinger, chief of reinsurance and surplus lines for DOBI, note the need for New Jersey insurers to spread catastrophe risk globally.
"If there is not global support this industry is not going to survive," says Mulhern.
As one example, he points to the devastation of Joplin, Mo., where a significant amount of the insurance dollars ended up coming from reinsurers from around the globe.
Recognizing the need, Mulhern and Schlesinger say New Jersey is one of four states to lower the collateral requirements for highly rated reinsurers to enter the state.
Mulhern says the state has also opened the door to working internationally with regulators in an effort to open the doors further to reinsurers.
Schlesinger says the state is moving ahead quickly to finalize the modernized requirements for reinsurers to do business in the state.
Ultimately, however, the major challenge in any catastrophe is the unexpected, says Hennon-Bell, pointing to the radiation fall-out from the Tohoku earthquake and tsunami in Japan earlier this year as an example.
"The challenge for us is what we haven't seen before," she observes.