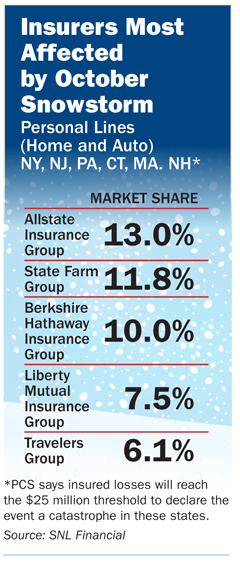 The freak October snowstorm that dumped more than 2 feet of snow in some locations is expected to be a major capital or credit event for the property and casualty insurance industry, says credit rating service Moody's.
The Oct. 29 storm knocked out power to close to 2 million homes and businesses at its height over a six-state region. The storm is expected to result in economic damage in excess of $1 billion. Moody's says the storm is credit negative for P&C insurers in the U.S. and is expected to adversely affect earnings "during a year of unprecedented catastrophe losses."
Tree damage is expected to be substantial as the storm piled snow on leaf-covered trees. The weight of the snow snapped many limbs and huge branches, producing damage to homes and cars from downed trees and limbs. Debris removal and auto accidents add to the tally of damages. There may also be "time-element" claims, such as reimbursement for additional living expenses (ALE)—such as hotel stays—for those displaced from their homes during the power outage, Moody's says.
While no official damage estimates have been released, losses are expected to be substantial and will add pressure to 2011 earnings, which have already suffered from a number of weather-related loss events this year.
By the first week of November, NU Online News Service reported various insurers were receiving a large number of claims. In addition, the Insurance Services Office's Verisk Analytic's Property Claim Services declared the event a "catastrophe"—meaning insured losses will exceed $25 million in Connecticut, Massachusetts, New Hampshire, New Jersey, New York, Pennsylvania. States of emergency were declared in each state.
Insurers with a large presence in the Northeast are most exposed to claims resulting from the storm, Moody's says.
According to SNL Financial, the top five personal-lines insurers (home and auto) in the most-affected states in 2010 were Allstate Insurance Group, State Farm Group, Berkshire Hathaway Insurance Group, Liberty Mutual Insurance Group and Travelers Group.