NU Online News Service, Nov. 22, 1:41 p.m. EST
Specialty commercial insurers continue to lead the way for property and casualty insurers' underwriting results for this year's first nine months, but results overall are down sharply compared to same period in 2010, according to a Fitch Ratings analysis.
Fitch says underwriting results for a group of 47 publicly traded P&C insurers and reinsurers it follows have deteriorated so far this year, posting an aggregate combined ratio of 105.3 compared to 96 a year ago. Fitch adds that 32 of the 47 companies posted underwriting losses for the year's first nine months compared to 15 companies in 2010.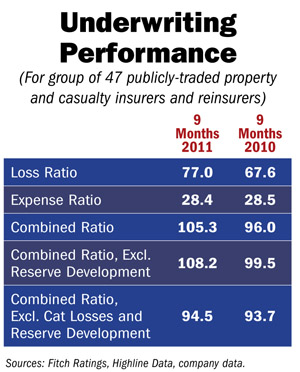 "These lackluster underwriting results led to anemic profitability for most GAAP filers," says Fitch. "Fitch's universe reported an operating profit of $8.1 billion year to date, versus $24.2 billion for the same period in 2010."
Fitch adds that the group reported a net profit of $9.7 billion during the year so far compared to a net gain of $26.4 billion last year.
Catastrophe losses are partly to blame, with losses for the group more than doubling to $28 billion for the first nine months this year compared to last year. Additionally, realized investment gains are lower, totaling $4.2 billion in the current year so far compared to $5.9 billion in the first nine months of 2010.
While all lines are feeling the effects of the weather and economy, specialty commercial insurers have seen the best results of commercial-lines sub-segments, which Fitch says is a trend that has continued over the past several years. "The group's aggregate combined ratio rose by 5.9 points to 98.1, but was still the only segment in Fitch's analysis to produce an underwriting profit," Fitch says.
The segment benefitted from favorable loss-reserve development, which trimmed 5.9 points from the aggregate combined ratio, but that favorable development is down from the 6.4 points trimmed in the first nine months of 2010.
The benefit of reserve releases across the industry is down for 2011 so far compared to 2010. The overall impact has been 2.8 points trimmed from the industry's aggregate combined ratio in 2011 compared to 3.5 points in the first nine months of 2010. Fitch says the vast majority of underwriters in its group continued to report favorable development, but the rating agency cites Hartford Financial Services Group and HCC Insurance Holdings as two notable exceptions that saw unfavorable reserve development.
For personal lines, the aggregate combined ratio jumped from 95.7 to 102.4 as the sector was hit by Hurricane Irene on the East Coast and heavy tornado activity and winter-storm losses earlier in the year.
Reinsurers saw their aggregate combined ratio climb to 117.3 from 93.1 a year ago due to first-half catastrophes such as earthquakes in New Zealand and Japan, Australian floods and U.S. storms. Reinsurers did report a third-quarter underwriting profit, Fitch says, as Hurricane Irene losses centered more toward primary writers.
Commercial diversified insurers' combined ratio is 104.6 for the year so far, compared to 96.6 at this time last year. Fitch says only two insurers in its group for this sector—ACE Ltd. and Hartford—produced accident-year combined ratios under 100.
Pointing to trends over the year so far, Fitch says capital generation is at a standstill, loss reserve releases are moderating, catastrophe losses are compounding and there has been a sharp drop in return on capital. However, Fitch notes that signs of a pricing shift have materialized.
"Fitch Ratings believes that this price reaction is well overdue," the rating agency says, "but it remains unclear if momentum will hold for further pricing improvement that is necessary to return the broader market to adequate return on capital levels."