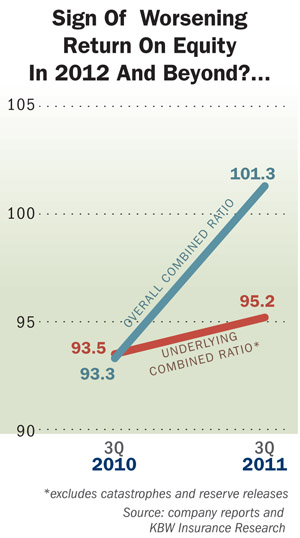 NU Online News Service, Nov. 14, 12:48 p.m. EST
Pricing in the property and casualty insurance industry may be on the rise but a lot of data continues to point to worsening returns on equity and earnings per share, said financial services specialists, Keefe, Bruyette and Woods (KBW).
Of the 46 insurers and reinsurers KBW follows, premium growth was 9.5 percent in the third quarter and there appears to be momentum—with pricing gradually better than the previous month, through September.
Talk of these price increases likely drove overall earnings per share for the group of insurers followed by KBW.
However, catastrophe losses added 11.8 points to the group's average third-quarter combined ratio of 101.3, which was about 8 points more than the same quarter in 2010.
Additionally, reserve releases slowed and KBW said slowing is expected to accelerate.
KBW said the overall average combined ratio of the group benefitted from 5.3 points from reserve releases, but that is slower than 6.7 points from reserve releases during the 2010 third quarter.
The observation of slowing reserve releases falls in line with an analysis from Stifel Nicolaus of 55 companies it reviewed.
Yet, even while excluding catastrophes and reserve releases, the third-quarter accident-year combined ratio for the group worsened to 95.2 from 93.5 a year ago, KBW reported.
"We would estimate the main driver to simply be loss costs outpacing pricing," KBW said.
"All else being equal, if we saw a continuation of the accident-year deterioration, we would see another 1.5- to 2-point decline in underwriting margin on an ex-catastrophe, accident-year basis," added KBW.
Investment income also proved to be problematic for return on equity. Investment income was down 3 percent in the third quarter and KBW said it will continue to decline into 2010 and likely into 2013.