NU Online News Service, Oct. 21, 10:56 a.m. EDT
Warren, N.J.-based Chubb Corp. says 2011 third-quarter net income dropped 48 percent due mostly to $420 million in before-tax catastrophe losses.
The company says net income was $298 million in the quarter, down by $274 million compared to a year ago.
Catastrophes in the third quarter drove the combined ratio up to 102.6, an increase of 16.4 points compared to the 2010 third quarter.
Chubb says net written premiums in the quarter were up 5 percent, or $147 million, to $2.88 billion.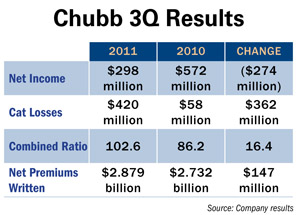 During a conference call with analysts, Chubb executives say they are confident they are getting rate increases on a number of lines of business while retaining a significant amount on renewal.
Generally, Chubb says premium-rate increases were around 4 percent for personal and commercial lines, while specialty-insurance premiums rose 2 percent.
For the first nine months of this year, Chubb says net income dropped 21 percent, or $328 million, to $1.23 billion. Net income per share was down 60 cents a share to $4.16. The combined ratio rose 7 percent to 97.1.
The company increased net premiums written by 5 percent, or $410 million, to $8.79 billion.
John D. Finnegan, chairman, president and chief executive officer of Chubb, notes during the call that Chubb has suffered close to $1 billion in catastrophe losses so far this year. However, he and other Chubb executives are optimistic that the company will continue to obtain rate increases while keeping a high retention rate that is running well over 80 percent on most lines of business.
Because of the high level of catastrophe losses, Chubb is revising its per-share earnings guidance to a range of $5.10 to $5.20 a share from $5.55 to $5.85.