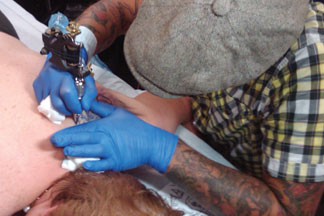 A tale of two tats
Susan Preston didn't start her insurance career thinking she would be on a first-name basis with many of the tattoo legends, but that's exactly what happened. Today her business, Professional Program Insurance Brokerage (PPIB), based in Novato, Calif., has 18 employees and impressive growth driven by its specialties: tattoo artists and piercers, permanent cosmetics, medispas, beauty salons and day spas, laser centers and its newest program, medical marijuana growers.
Tattoos have gone mainstream. Ed Hardy-branded products can be found in every retail store. TV shows like "L.A. Ink" have made stars of tattoo artists like Kat von D. According to a 2008 Harris poll, 14 percent of Americans now have one or more tattoos; and a Pew Research study shows that 36 percent of Americans aged 18 to 25, and 40 percent of those 26 to 40, have at least one tattoo.
When Preston began writing program business for tattoo shops, hers was the only insurance business working with this specialty. Today, hundreds of tattoo and piercing shop clients are PPIB's largest class of business, driven by a custom-designed program underwritten by Lloyd's of London.
Preston started her business in 1993, specializing in salons and spas, including cosmetic tattooing. One of her customers observed that if she cover cosmetic tattooing, she could do it for traditional tattooing as well.
Preston studied the market and the field for about 6 months and developed a program for tattoo shops and approached underwriters in the London market. One year later, a body piercing shop called her asking her about coverage. Once again, Preston took 6 months to study the industry, learn about piercings, and presenting the London market with a program which today still sets the standard for the body piercing industry.
PPIB works closely with its customers on risk management. Most actual claims involve typical small-business risks. A few of the more interesting claims PPIB has experienced include:
A pole dancer tearing out her nipple piercing at work
A tattoo of the Mexican flag applied backward on a customer's entire back
A dominatrix unable to "take control" of her profession due to laser burns from a laser hair removal center
A deer running through a medispa facility and frightening the patrons
A medical marijuana supplier who dropped off the product in a lunch box, then claimed it was stolen
A patient at a medical marijuana dispensary tripped over themselves; the clerk working at the time laughed at him and was sued for "humiliation."
For PPIB's latest specialty, medical marijuana, Preston found a Sacramento-based broker who was an expert on insurance risks involved in the practice. This, in conjunction with PPIB's specialty background, made it easier to present endorsements to underwriters that are unique while offering a general liability product, product liability, property coverage and coverage for finished stock.
PPIB also put together a program for indoor crops and transit, and also designed and copyrighted the endorsements that give some amount of legal fee coverage for dispensaries that are shut down by city, county or state authorities. "It's a unique endorsement that meets the specific needs of the industry and allows our brokers to go out and sell something special," Preston said.
The music man
A musician by training, Peter Anderson started his career as a semi-professional singer and member of the Boston Symphony Orchestra chorus. He got into insurance because he "needed a day job," and moved from selling life insurance to property-casualty in 1980.
He started his own generalist retail agency in 1983 and sold it in 2008 to launch Anderson Group International LLC, based in Fort Lauderdale, Fla., which focuses exclusively on musical instrument insurance. "And based on the results, I wish I had done it years earlier," he said. "Agencies need to find a niche and exploit it; it's the wave of the future.
Working exclusively with One Beacon, the agency has the underwriting pen for the program, sets rates and refers back to the underwriter based on authority granted to him.
The agency has already doubled and almost tripled its revenues since 2008. Starting with revenues in the low six figures in June 2008 as a part-time sideline at the original agency, it is now approaching mid six figures in revenue.
Working with professional musicians taught Anderson about what they need to insure their expensive musical instruments. One of his original agency's first related accounts was the Boston Symphony Orchestra.
Over the years, the original agency added the Utah, San Francisco, Phoenix and National Symphonies. In 1995, the agency created a program for freelance musicians which they added a master policy through Anderson Group Musicians Alliance and issued certificates from that. Today this is their major focus, although they still add orchestras and musicians associations as customers. Through the freelance program, the agency deals with musicians around the world with a program that covers dealers, collectors, hobbyists, enthusiasts, professionals and semi professionals, giggers—the whole range of musicians.
Instruments insured range from those valued at under $1,000 to a violin with an estimated value of $8 million, and everything in between.
The brokerage's six staffers (two in Canada, one in Spain, two in Florida and one in Massachusetts) all work out of their homes, and Anderson conducts most business through BlackBerry, iPad and the occasional laptop connection.
Most of Anderson's inquiries come in through its website and are processed through a customized ticketing and quote management system developed by the brokerage's IT people. The system is currently scaled to handle 25 quotes a day.
The policy and form are exclusive to the agency and have custom written coverage, now in its fourth generation. The average annual premium and policy fee is in the mid-$200s and growing.
Claims typically arise from instrument bumps and drops, Anderson said. Airlines and travel are another big exposure when people put instruments in improper cases and leave them to careless baggage handlers.
Legitimate claims can include trip-and-fall claims with instruments, the occasional theft, and one instance in which an insured was moving and their car was totaled on the highway with the instrument in tow. "It was only on the books for two weeks and ended up being a $19,000 claim," Anderson said.
"We try to ask all the right questions to get a sense if the person is responsible about the care and feeding of an instrument to make sure it's got a fighting chance. Typically musicians take better care of their instruments than they do themselves, which is part of why we've had an enviable loss record."
The specializing generalist
For a 100-year-old agency with deep roots in traditional insurance, Thoits Insurance has a forward-thinking attitude when it comes to technology. A self-described generalist agency that specializes in cyber liability risk, Thoits prides itself on being "a generalist agency which has been fortunate enough to specialize in a few profitable niches," said CEO Paul Saich.
Thoits has approximately 75 employees handling $125 million in annual premium with a corporate office in San Jose, Calif. and an additional office in Santa Cruz, Calif.
Niche/specialty business comprises approximately 20 percent of Thoits' annual premium volume, with a special emphasis on the rapidly expanding cyber liability market.
"The general concept for cyber liability really kind of started taking off about 18 months ago," said Ted Way, client executive and cyber and management liability practice leader at Thoits. "That was when we started making these submissions on a regular basis."
As is common in emerging markets, there is plenty of uncertainty in the cyber liability arena, such as who is liable, what steps are required to protect information, and what is considered sensitive information, Saich said. "We like our clients to err on the side of caution and understand that this exposure is not going away, that is, unless the Internet does," he said.
Thoits' reputation as a generalist actually assists the agency in spotting trends that could turn into niches. "Being a generalist gives us constant exposure to multiple lines of business that we can evaluate and determine if it is worth investing our resources in creating a niche," Saich said. "As an agency, we work with our partner carriers to see where we could carve out a niche given our existing book of business. We would never go into creating a program/niche without having a partner carrier willing to move forward with us from the start.
A niche/program is never built on price, it's always built on coverage—and a program's ultimate success invariably hinges on the carrier, Saich said. This requires a lot of preliminary research about the potential niche before the agency should even think about approaching a carrier, he said.
"If you have done your homework, a program/niche will be priced based off the credibility of the risk. It is up to the broker/agent to bring the best in class to the program. If you bring the best in class to the carrier, the price will be easily achieved. What attracts an insured to your niche/program is the coverage offering. Once the insured is in the underwriting stage, the broker/agent and partnered carrier will evaluate their credibility and make sure the insured is willing to accept the loss control and risk management requirements that make a niche/program successful for years to come."
Saich's advice to an agency interested in getting into the niche program business?
"First, evaluate and understand your book of business. Next, work with your partnered carriers to see if there is a common interest in a specific class of business. Once this is determined, make sure you can set yourself apart with a coverage position or risk management offering that will attract additional insureds to your agency. Again, if you do your homework and underwrite effectively, price will not be an issue."