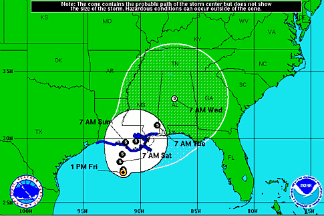 NU Online News Service, Sept. 6, 11:37 a.m. EDT
Tropical Storm Lee spent the Labor Day weekend making residents in the South miserable with unrelenting rains before heading today into an already saturated Northeast region trying to recover from Hurricane Irene.
Lee became the 12th named storm of the Atlantic Hurricane season on Friday afternoon, generating heavy rains in Louisiana all day Saturday before moving out late Sunday.
The storm's effects were felt as far east as the Florida panhandle and west into Texas where that drought-stricken state received no rain relief for a series of brush fires ravaging the state.
Lee had the cruel effect of intensifying the fires there with winds fanning the flames and making the situation even more difficult for firefighters.
Tropical storm Lee dumped more than a foot of rain across Louisiana, Mississippi and part of Alabama, and flooding was reported throughout the region. Rain totals were as high as 20 inches in some places.
The National Weather Service (NWS) says that at its height, as the storm reached the Louisiana coast on Saturday afternoon, winds did not exceed 60 mph and quickly dropped after making land fall.
The last public advisory was issued by the NWS on Sunday night as the storm broke apart and the remnants moved into the Northeast. Flash flood warnings are in effect.
However, the storm did spawn some tornadoes that produced isolated pockets of damage in Louisiana and elsewhere.
The storm also shut down some oil production in the Gulf of Mexico with 232 platforms and 24 rigs evacuated, says the Bureau of Ocean Energy Management.
The three major modeling firms—AMS, RMS and Eqecat—issued no loss estimates on the storm since it is considered a flood event.
Meanwhile, Hurricane Katia continues to strengthen in the Atlantic. The Category 3 storm on the Saffir-Simpson scale now has sustained winds of 120 mph, says the National Hurricane Center. The 11 a.m. public advisory forecasts the storm to make a northeast turn between the United States and Bermuda and head further out into the Atlantic. The storm is expected to produce large swells along the East Coast and bring tropical storm-force winds to Bermuda.
The NWS says another low pressure system is forming off the coast of Africa and has a 70 percent chance of becoming a tropical cyclone during the next 48 hours.
The NWS has predicted a total of 12-18 named storms in the Atlantic this year, with 6-10 of them becoming hurricanes.