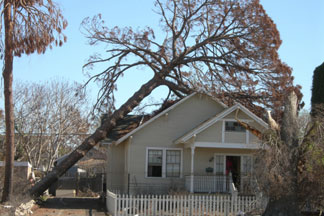 2011 has been both unique and consistent in the ferocity of our social and business interaction with our natural world. Global events like the Japanese tsunami and local events like the EF-5 tornadoes that tore through Joplin and Tuscaloosa, leaving hundreds dead; flooding along the Souris River in North Dakota and the most powerful earthquake to strike the East Coast of the U.S. in more than 60 years have been difficult to ignore.
Showing he read the memo and can react to a set of circumstances, Mayor Michael Bloomberg ordered the New York City subway system closed as Hurricane Irene churned up the East Coast. This was a first in the system's more than 100-year history. Mayor Nutter of Philadelphia declared a state of emergency for the first time since 1986. Neither of them were taking any chances.
By many accounts, Hurricane Irene was not the catastrophe predicted. New York City skyscrapers were not toppled and subway tunnels did not fill with water. However, repair and rebuilding costs are expected to approach $10 billion. Damage from flooding to areas of Vermont, New Jersey and upstate New York exceeds levels that haven't been seen in more than a half-century. So while it's not as bad as predicted, if it impacted you there is 100 percent accuracy in the prediction.
The Internet has provided powerful images of the widespread destruction. The ruin rained down on picturesque towns like Prattsville, N.Y., Quechee, Vt. and Hackettstown, N.J. Email and Twitter are telling in words whatever pictures may leave out.
Reconstruction efforts are uncertain because many of the affected parties did not have the right insurance coverage. Those who were insured are paying high deductibles. The uninsured are much worse off. Many of these same people and businesses were cash strapped due to the lingering economic malaise. As a result, the boost to construction that often follows weather events will be muted.
At a time when weather and geologic events are wreaking havoc on life, home and commerce, we in the insurance industry are poised to make a vitally significant difference.
Insurance and risk management are often the only bulwark that stands between disaster and recovery. When done correctly, no other industry can claim this narrative as its personal story. Given the proper coverage and willpower, a municipality, a family and a business will have the means to rebuild. Anyone who has been reading and listening to us over time will realize proper coverage is more of a roll of the dice than many thought fair or possible.
We must seize these moments of stark clarity—as trees are being pulled from streets, power lines are being restrung, business owners are digging out and road crews are repairing ravaged macadam—to communicate the vital place insurance can occupy in economic health and survival. It is a very personal story to those affected. Of course we must step carefully, because we walk a fine line between fear mongering and sharing the reality as we know it in risk management and good business practices.
With the proper coverages, vigorous rebuilding efforts bringing much-needed jobs to local communities will move forward. Businesses, the lifeblood of local communities, will be reconstituted, employment will be maintained and family homes will be put back together. Otherwise, lingering misery will ensue.
We are a vital part of the safety net securing the long-term vitality of businesses, families and towns throughout our nation. We must seize this moment to tell our story to people, businesses and municipalities that are uninsured, underinsured or improperly insured. This can be our tipping point.