NU Online News Service, Aug. 25, 3:06 p.m. EST
Hurricane Irene is expected to be a multi-billion dollar event for the insurance industry, says Robert Hartwig, president of the Insurance Information Institute.
The storm, a Category 3 hurricane with sustained winds of 115 mph, is battering the Bahamas and will start heading north—well off the east coast of Florida on Friday—on its way to the southern coast of North Carolina.
After passing over North Carolina, Hurricane Irene on Sunday morning is expected to remain a hurricane to the south of New Jersey alongside Virginia, Maryland and Delaware.
Then Irene is projected to head through New Jersey to the New York metro area and New England through Sunday.
Hartwig was interviewed early this morning on CNBC.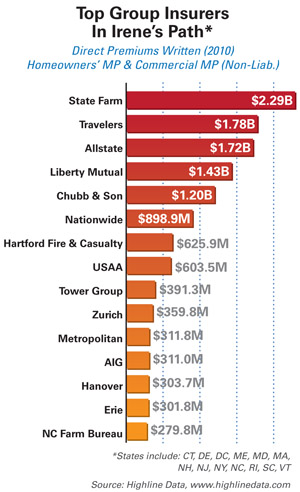 "It looks like Hurricane Irene, at this point, is going to be a significant hit, likely a multibillion dollar storm that is a large event, certainly for the East Coast, but well within the planning scenario for [property and casualty] insurers and re-insurers," Hartwig says.
Alex Sosnowski, expert senior meteorologist at AccuWeather.com says Hurricane Irene could be among the "worst hurricane impacts in 50 years along the northern part of the Atlantic Seaboard."
He says, "The impact on lives, property, commerce and travel will be serious."
Sosnowski says Irene will weaken once it reenters water after hitting North Carolina but "that will not happen fast enough to prevent serious problems from wind, rain and ocean water."
Hurricane Jeanne in 2004 affected many of the same states and caused $4.15 billion in insured losses. It ranks as the tenth costliest storm in the United States.
Hurricane Floyd in 1999 came up the East Coast and caused $3.5 billion in losses.
State-run insurers may feel a significant brunt of the insured losses, Hartwig says. The residual market in Massachusetts, for instance, could see the "largest losses they have ever seen in history." These funds often make up for shortfalls by assessing other policyholders.
"They'll be paying on that for years," Hartwig says.
New York's residual insurer has actually seen a decrease in policies since 1990 (about 54,255 in 2010 from 73,805) but exposure to loss has more than doubled from $45.6 billion in 1990 to $13.9 billion in 2009.
Only Florida exceeds New York's total $2.4 trillion in insured value of coastal properties.
In 1938 a hurricane known as the "Long Island Express" made landfall as a Category 3 storm. An analysis by catastrophe modeler AIR Worldwide concludes that the storm would have caused $38 billion in insurance damages if it occurred today.