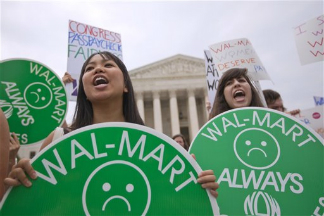 NU Online News Service, Aug. 22, 3:08 p.m. EDT
American International Group is asking a federal district court in New York to dismiss a huge class-action lawsuit filed against it by people who lost money investing in the company during the years leading up to its bailout by the federal government.
The suit was filed in late May 2008. Its lead plaintiff is the state of Michigan Retirement System.
In its answer, AIG became one of the first defendants to use the precedent established against class-action lawsuits through the recent Wal-Mart Supreme Court decision.
AIG says the proposed class covers so many different time periods, so many different sets of circumstances prior to its bailout, and so many different kinds of financial interests that it is impossible to say such a broad class has anything in common.
"The proposed class may well be unprecedented given the strikingly different market conditions involved (from booming economy to credit crisis to recession), the varied disclosures made by AIG throughout the period, and the sheer number and different types of securities," AIG says in the filing.
Rule 23 of federal regulations dealing with an interpretation of what constitutes commonality in action lawsuits was significantly limited by the Supreme Court in late June through Wal-Mart Stores, Inc. v. Dukes.
The AIG filing says that, by lead plaintiff's own admission, "the class would cobble together three distinct time periods, each with very different market conditions and very different AIG disclosures."
According to a Treasury statement issue Thursday, the federal government at one point had loaned AIG $182 billion in cash to keep the company going.
Even after a share sale last May, the government still owns 77 percent of the company.