NU Online News Service, Aug. 11, 12:37 p.m. EDT
Zurich Financial Services Group says 2011 first-half net income increased 20 percent over last year despite catastrophe losses of $780 million and challenges faced in the economy.
Net income for half-year was $1.97 billion, up $323 million over last year.
Gross written premium rose 5 percent, or $936 million, to $18.88 billion.
The company reports a general-insurance combined ratio of 99.3, up 1.3 points from 98 in the 2010 first-half.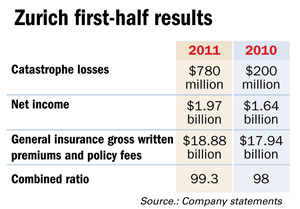 The company says the March 11 earthquake and tsunami in Japan, flooding in Australia and the February earthquake in New Zealand resulted in first-quarter catastrophe losses of more than $500 million.
In the second quarter, aftershocks in New Zealand resulted in losses of $80 million, and severe weather events in the United States added $200 million more in losses.
The company says first-half results were helped by realized gains of $441 million before tax on the sale of shares in New China Life Insurance Co., Ltd.
In a recorded video commentary on the company's results, Martin Senn, chief executive officer of insurer Zurich, says the company "is positioned for profitable growth," noting the signing of a long-term alliance with Santander in Latin America and the acquisition of Malaysian composite insurer Malaysian Assurance Alliance Berhad. He says the latter transaction will further enhance the company's position in the Asia-Pacific region.
Zurich also announces today that it signed a definitive agreement with Deutsche Bank to extend its distribution agreement in Germany on life and general insurance until 2022.
On the current economic environment, Senn says Zurich anticipated it "economic growth would remain challenging" for the rest of this year and growth in its core markets "would remain below potential." Financial markets would be volatile "with low yields affecting investment income."
"Indeed, this is proving to be correct," says Senn. Despite this reality, the company was able to deliver "strong numbers" for shareholders.
Second-quarter net income after tax rose 88 percent, or $621 million, to $1.33 billion.