The impact of second-quarter catastrophes on insurers is beginning to be seen, as four separate companies cited cat losses as the primary reason for their drop in net income.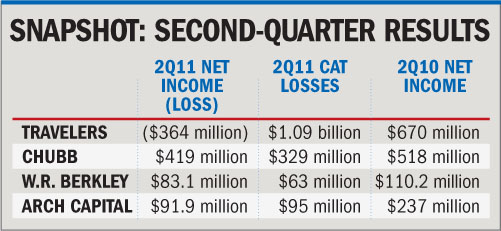 The Travelers Cos. was the first of the four to report results, and it also suffered the biggest impact from catastrophes. The insurer reports a second-quarter net loss of $364 million, driven by $1.09 billion in catastrophe losses, after tax. Catastrophes added more than 30 points to Travelers' combined ratio of 125.
Travelers CEO Jay Fishman says losses due to extreme tornadoes and hail during the second quarter were "the equivalent of losses we would expect from a 1-in-100-year hurricane." Nevertheless, he says Travelers' capital "remained generally unchanged."
Warren, N.J.-based international-insurer Chubb Corp. saw $329 million in catastrophe losses in the quarter, driven by storms in the U.S.—especially in Alabama, Missouri and North Carolina. The losses contributed to a 19 percent drop in 2011 second-quarter net income, which fell to $419 million.
Catastrophe losses added 11.3 points to Chubb's combined ratio, which climbed to 94.9 compared to 90.4 in the 2010 second quarter.
"It was the highest second-quarter [catastrophe] impact in the history of Chubb by a wide margin," says Dino Robusto, president of personal lines, during a conference call.
Bermuda-based specialty-insurer and reinsurer Arch Capital Group Ltd.'s 2011 second-quarter net income dropped more than 61 percent, to $91.9 million, compared to the same period a year ago as catastrophes caused $95 million in losses.
Arch says $81.5 million consists of cat events that occurred during the quarter, while the remaining $13.5 million is attributable to increases in loss estimates for 2011 first-quarter events. The $95 million in cat losses compares to $7 million in cat losses for the 2010 second quarter.
Arch's combined ratio was 99.6, up from 90 in the 2010 second quarter.
W.R. Berkley Corp. says second-quarter net income fell about 25 percent, to about $83.1 million, as catastrophes during the period more than doubled compared to last year.
Catastrophe losses, driven by weather events in the U.S. in April and May, were $63 million after reinsurance and reinstatements. Cat losses were $30 million during the 2010 second quarter.
The Greenwich, Conn.-based specialty insurer's combined ratio for the second quarter was 101.1.