NU Online News Service, July 29, 12:37 p.m. EDT
The commercial property and casualty market is showing more evidence that the long soft-market cycle may be grinding to a halt, as the latest survey of insurance brokers indicates a modest increase in pricing.
The Council of Insurance Agents & Brokers released its second-quarter 2011 Commercial P&C Market Index Survey, in which half of respondents say they saw "no change" or a 1 percent to 10 percent price increase for all size accounts across the country.
"When you look at the trend line over the past year, pricing has steadily inched upward," says Ken A. Crerar, president of The Council. "It isn't increasing by leaps and bounds, but there appears to be some momentum."
The Council says prices remained stable this quarter with negligible declines. The 2011 first-quarter survey came in with an average 3 percent decline for all accounts. The average decline for all size accounts in the second quarter was 0.1 percent.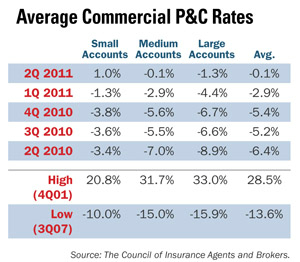 According to the survey of the nation's largest insurance brokers, small accounts experienced a 1 percent increase in rates compared to a 1.3 percent decrease in the previous quarter.
Medium-size accounts on average had a decrease of 0.1 percent compared to a decrease of 2.9 percent for the first quarter of the year.
Large accounts (more than $100,000 in commission and fees) still enjoy the greatest decrease, but that narrowed a bit. According to the survey, the average decline for large accounts came in at 1.3 percent compared to a decline of 4.4 percent for the previous quarter.
Thirty-two percent of respondents say there was no change in rates for small accounts, defined as commission and fees of less than $25,000. Twenty-one percent says rates for small accounts were down 1-10 percent, while an equal number say rates rose 1-10 percent.
For medium-size accounts ($25,000 to $100,000 in commissions and fees), 29 percent of brokers say there was no change in premium rate, while 32 percent say rates were down 1-10 percent. Eighteen percent say rates were 1-10 percent.
Turning to large accounts, 27 percent of brokers say rates did not change, while 30 percent say rates were down 1-10 percent and 20 percent say there were down 1-10 percent.
No brokers say they saw rates on any size account rise above 30 percent.
Ten percent say rates for small accounts rose 10-30 percent, while 8 percent say rates for medium-size brokers rose in that range. Only 5 percent of the brokers say rates rose 10-30 percent for large accounts.
The Council says it received anecdotal comments from brokers observing that carriers "were getting tougher on terms and conditions and asking for more information on client risks." The association adds that similar comments were voiced during the first-quarter survey "as carriers traded off price increases for narrower terms and conditions."
Lines of business where rate increases occurred, according to respondents, include commercial auto, commercial property, directors and officers, and workers' compensation
For commercial auto and D&O, 21 percent of brokers say rates rose 1-20 percent. Twenty-nine percent say commercial property rose in the 1-20 percent range.
For workers' comp, 37 percent say rates rose in the 1-20 percent range.
In an analyst's note, Meyer Shields with Stifel Nicolaus says it is further indication that the soft market will "diminish through most of 2011, with a hard market emerging by mid-2012. At the same time, insurance demand should recover along with stabilizing economic and employment trends."
He says there is still concern with commercial underwriters' "profit deterioration" that is "a necessary prerequisite to rising rates."