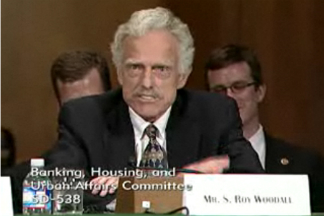 NU Online News Service, July 27, 10:13 a.m. EDT
Roy Woodall, the presumptive independent member with insurance expertise on the Financial Stability Oversight Council, vowed at a confirmation hearing to "vote his conscience" as a member of the new agency.
"Insurance is in my blood," he adds.
Woodall explains that his grandfather, C.A. Woodall, started selling insurance from a mule-drawn wagon in 1904 and continued to be a leading insurance producer in Princeton and Western Kentucky for over 50 years.
He adds, "My father, Roy Woodall Sr., started his own general agency in Paducah, Ky. in the 1920s and ran it until he retired in 1973."
Insurance-industry trade groups voiced strong support for Woodall in statements issued at the hearing. The American Insurance Association, the Property Casualty Insurers Association of America and the National Association of Mutual Insurance Companies all urged prompt confirmation of Woodall.
But Sam Gilford, a spokesman for the committee, says committee policy is for nominees to be given a week to respond to written questions asked by members of the committee. Woodall's nomination is not expected to be reported out by the committee until the week is up.
Currently, the Senate is scheduled to adjourn for a month-long recess Aug. 8.
In testimony at his confirmation hearing before the Senate Banking Committee, Woodall also said in response to a question that he did not believe that an insurance company involved in "traditional" insurance activities is "likely" to constitute a potential system risk to the financial system.
Woodall received a warm welcome from members of the committee, with Sen. Tim Johnson, D-S.D., opening the hearing saying that he was "pleased" to consider Woodall's nomination.
He added that American International Group Inc. (AIG) showed how interconnected the insurance industry is with the health of our economy. "I am sure Woodall's contribution as an FSOC member will be invaluable."
Sen. Richard Shelby, R-Ala., ranking minority member of the committee, also brought up AIG while questioning Woodall.
Shelby noted the key role played by AIG in the 2008 financial crisis, and asked whether insurance companies should be considered a systemic risk to the system.
Woodall responded by saying insurance companies should be evaluated for being systemically risky on a case-by-case basis/
Woodall added that he did not think AIG was representative of the insurance industry as a whole. "It's only when insurance companies go beyond the traditional business model [that] they get in trouble," Woodall said.