NU Online News Service, July 19, 2:29 p.m. EDT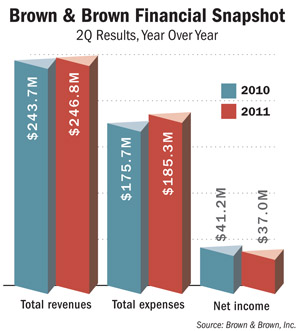 The lackluster economy, loss of contingent commissions and business issues at certain offices conspired to reduce insurance broker Brown & Brown Inc.'s net income by 10 percent for the 2011 second quarter of this year.
The Daytona Beach, Fla.-based broker reports second-quarter net income of $37 million, down more than $4 million. Earnings per share dropped 3 cents to 26 cents a share. Revenues rose 1 percent, or $3 million, to $247 million.
For the 2011 first half, net income was off 2 percent, or $2 million, to $83 million. Earnings per share was down 2 cents to 57 cents a share. Revenues increased 3 percent, or $13 million, to $509 million.
In a statement, J. Powell Brown, president and CEO of Brown & Brown, says: "We were challenged this quarter by $4.2 million less in profit-sharing contingency commissions. This is largely a reflection of rising loss ratios of property and casualty insurance carriers across the U.S. We are pleased with the continued incremental improvements in certain segments of our business, most notably the second consecutive quarter of positive internal growth in wholesale brokerage division."
During a conference call with analysts, Brown says another contributing factor to the firm's performance was a former executive taking several accounts from one office. He says the company is currently in litigation over the move and could not comment further.
The firm has also lost business as school boards across the nation have cut the amount of insurance the schools need as they contend with budget cuts.
Business for contractors has still not regained strength, he noted, and that has also affected insurance purchases.
Powell says that overall rates are "flattish" on renewals, but carriers are trying to get rate increases. He says the firm has written "a lot of new business" and retentions remain at historical levels, but the level of insurance purchase by accounts remains off.
Concerning organic growth, while wholesale brokerage was up 1 percent, overall organic growth was down close to 5 percent.
"We need a better economic environment to improve organic growth," says Powell, adding that as a middle-market broker that business expansion in that sector has not occurred yet.