There may not be a nastier rivalry in all of college sports than the University of Alabama and Auburn University. The two sides love to hate each other, yet when tragedy strikes, as it did on April 27, an entire state becomes one and chants of "Roll Tide" or "War Eagles" are put aside—at least until the fall—so all Alabamans can bond and help one another.
April 27 was the day a tornado roared through the northern part of Alabama, claiming 243 lives and causing over $2 billion in insured damage. The daytime storm allowed television cameras to capture the fury of this storm for the entire state to view.
"We were almost eyewitnesses, says Eileen Senn, vice president of claims operations, Alfa Insurance, which is based in Montgomery. "We watched tornados live on TV ripping through Tuscaloosa and Birmingham. Some of our managers watching on TV knew they had employees in the area and some had college-age students in the basement of the buildings as we watched the storms form. That was a monumental day for the state of Alabama."
Alfa is the second biggest writer of homeowners insurance in Alabama. So after the initial shock of witnessing the devastation on television, the disaster plans the carrier had already formulated kicked in, according to Senn.
"Being so close to the Gulf Coast, we are always doing tests and preparing for catastrophes with our mind more on hurricanes," she says. "This was like a hurricane, but it was wider spread than anything we've ever had before."
Four years ago, nine people died in a tornado that struck Enterprise, Ala., but Senn recalls that storm encompassed a much smaller area than the one that roared through northern Alabama.
"This was different because it was across the entire state," she said. "But weather events are always in the back of our minds."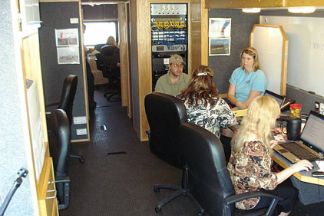 As part of its emergency response preparation, Alfa purchased two mobile response units about five years ago, explains Senn.
"From the outside it looks like an RV, which is really what it is," she says.
On the inside, though, each unit is a self-contained office with a generator, satellite dish, and wireless connectivity. The units can handle up to nine work stations and contain scanners, printers, and laptops—everything Alfa needed to set up an emergency office.
Senn reports Alfa has offices in each of Alabama's 67 counties, so personnel were already available once the storm ended. But most of the affected areas were without power, crippling efforts to reopen offices in the affected areas.
Alfa employs its own adjusters—a staff of 125—according to Senn, and each of them has all the necessary tools in their cars, including laptops, cellphones, digital cameras, and printers.
"Early on we sent most of them to the storm area and then we rotated some in and out, but we threw all our resources at [the response] the first day," says Senn.
One break that Alfa got in response to the storm was that cellular service through Alfa's cellular carrier, Verizon, held up.
Alfa has the ability to connect to satellites from the mobile units, but that is used as a last resort, according to Senn.
"Some of our [technology] doesn't work as well with the satellite," says Senn. "We are in the middle of buying a condenser system so we can run [systems] off the satellite if we have to. The initial testing has been good enough to buy the devices to enhance our mobile units. We needed cell phone towers [for this storm]. We were lucky that even though a lot of cell towers were down, we were still able to get connectivity."
In 2010, Alfa purchased the ImageRight solution from Vertafore as its enterprise content management and workflow system for the claims operation, pointed out Senn. She believes the paperless approach is the reason Alfa was able to push forward 22,000 claims related to this single storm.
From the time the claim is reported, all the information is entered into the ImageRight system. Once the claim is created, the adjuster immediately gets an email. A folder with FNOL and other information is programmed in ImageRight so the claim file is there with the information needed and Alfa's claims personnel can get to work.
"The best thing about ImageRight is if someone calls and asks about the claim we can put a note in the file and the person in the field sees it immediately whether they are in the bus or their car or in the hotel at night," says Senn.
Adjusters can make notes in the file, financial payments, import estimates and everything is immediately viewable by anyone with access to the software. Prior to ImageRight, if someone called Alfa with a question the customer service rep would take a message and then go and find the file.
"This way, anyone with access can look at the file to know what's going on and make additional comments," she says. "It's given us the ability to have real-time access to the information as we need it. It really has been tremendous for our customer service."
The April tornado was the big test.
"We've used it for smaller incidents, but this was by far the largest," says Senn. "We've had [the solution] long enough that everyone was familiar with it and trained. The timing came at a good time as far as our preparation. We had done a lot of testing and training. We were ready."
One year ago, virtually everything Alfa did involved paper. A storm such as April's would have meant ferrying things to the home office for processing.
"We still would have had the mobile units, but everything would have been paper based—writing out code sheets, and notes and assembling files," says Senn. "We did have a back-office imaging system and imaged files when they closed, but this way we've gone from after the fact when the claim is closed to where we start at the beginning and it's a living, breathing file that we can add to and work with. We were sort of paperless, but it was after the fact."
Having the mobile units gave Alfa a jump on the mammoth number of claims.
"The mobile units enabled us to get close to the areas where we needed to see people," says Senn. "In some cases we didn't have the broadband because lines were down. As those areas came online we were able to go back to work in our physical facilities. The mobile units gave us the ability to go where we were needed. As the power came on and things were stabilized in one area, we were able to drive somewhere else."
When a crisis hits, Senn says it is "all hands on deck" to deal with the aftermath. People from different departments in the company pitched in to get the work done and restore some sanity to the affected policyholders.
"Our marketing team was phenomenal in what they did to help us," says Senn. "They used Facebook and other social media to provide information. They ran radio and TV ads giving the 800 number to call."
Almost all of the initial claims have been taken care of, but it will be several months before they will all be closed as people are in the process of deciding whether they will rebuild, explains Senn.
Just in time for the 2011 college football season.