NU Online News Service, June 22, 11:42 a.m. EDT
As director, risk management services for the Tucson Electric Power Company (TEP), Karl Zimmel has had his share of challenges, the latest being the massive wildfires in Arizona, which have charred hundreds of thousands of acres and threatened TEP facilities.
Business continuity plans in place have gone a long way toward protecting the company and its employees, he says.
Zimmel, a member of National Underwriter's Editorial Advisory Board, says he has been in risk management for 29 years. He has been with TEP, a $1.4 Billion utility company, since December, 2008.
Within a few months of starting his job, Zimmel says the swine flu pandemic hit. As a new employee without established relationships within the company, he says, it was a challenge to quickly develop a plan for an emerging risk.
His most recent, and largest risk management challenge, he says, is the various wildfires in Arizona. The Wallow Wildfire came within about 15 miles of the company's largest generation plant in Springerville, Ariz.
The fire also came within one mile of a transmission line near Luna, N.M., which provides a significant portion of electricity to Tucson, he says.
"I have learned a lot from what so far has been a 'near hit' from wildfires," Zimmel says. "This experience has continued to develop my understanding of the technical operations side of the utility industry and all of the sophisticated redundancies in place to keep the national electrical grid reliable."
The utility business, he adds, has been a "much more significant learning curve than any of the other industries I've worked in."
Zimmel's risk management background includes Alberto-Culver a $3.3 billion beauty products manufacturer; Ace Hardware Corporation a $3 billion hardware retailer and wholesaler; and Hub Group, Inc., a $1.5 billion transportation and logistics company.
These wildfires, he says, have reinforced the need to continually develop plans for pandemic-type events—especially since TEP had issues similar to a pandemic when most of its Springerville Generation Station employees were recently evacuated from their homes because of the wildfires. "Fortunately, we had a plan in place to assure coverage at the nearby facility," he says.
Below and on the following pages are images of the wildfires raging in the West.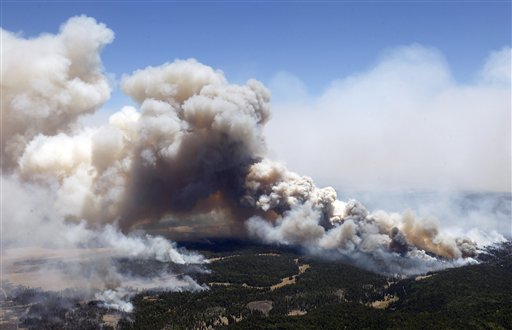 Miles of smoke billow skyward from the Wallow Fire Tuesday, June 7, 2011, near Greer, Ariz. Officials say the blaze has already burned 486 square miles and is about 10 miles outside the towns. Winds have been driving the flames 5 to 8 miles a day since the fire began, possibly from an unattended campfire. (AP Photo/Ross D. Franklin)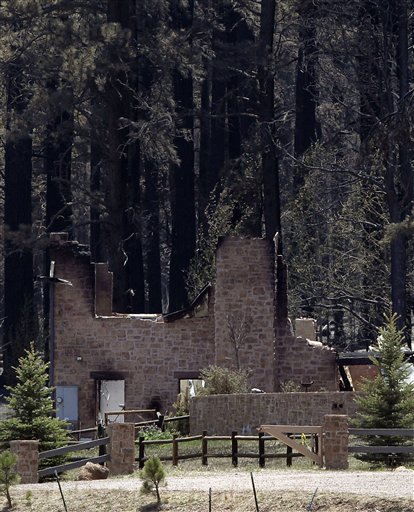 A home burned in the Wallow Fire is seen in Greer, Ariz., Monday, June 13, 2011. The focus of the battle against a massive wildfire burning in eastern Arizona shifted to New Mexico as crews lit fires around the town of Luna to stop the flames. (AP Photo/Jae C. Hong)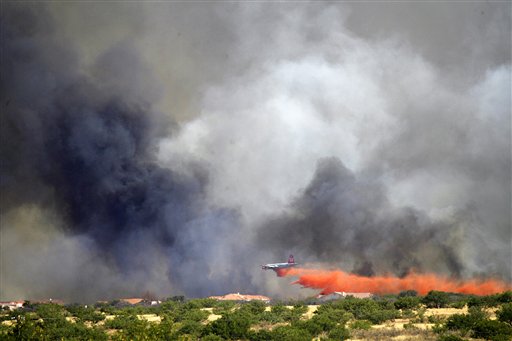 In a June 14, 2011 photo, an airplane drops retardant near a neighborhood off of Highway 92 as the Monument Fire burns in the Huachuca Mountains near Sierra Vista, Ariz. Fires have devoured hundreds of square miles in the Southwest and Texas since wildfire season began several weeks ago. (AP Photo/Arizona Daily Star, Greg Bryan)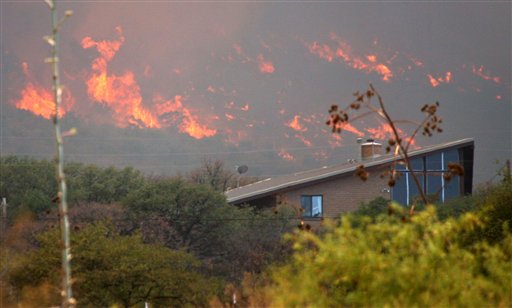 In a June 14, 2011 photo, large flames are visible behind a home off of Highway 92 as the Monument Fire burns in the Huachuca Mountains near Sierra Vista, Ariz. (AP Photo/Arizona Daily Star, Greg Bryan)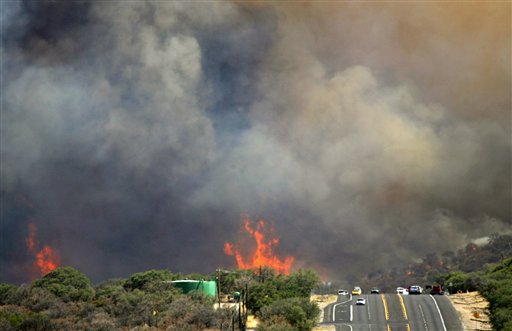 In a June 14, 2011 photo, large flames and plumes of smoke are visible along Highway 92 as the Monument Fire burns in the Huachuca Mountains near Sierra Vista, Ariz. Fires have devoured hundreds of square miles in the Southwest and Texas since wildfire season began several weeks ago. (AP Photo/Arizona Daily Star, Greg Bryan)