NU Online News Service, June 20, 3:04 p.m. EDT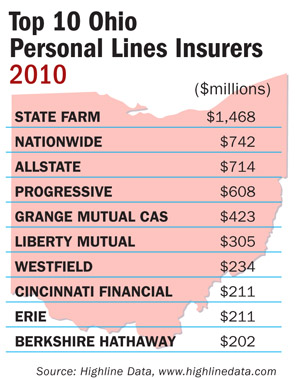 Late May storms resulted in at least $322 million in insured losses in Ohio, says a state trade association.
Property Claims Services estimates 77,000 total claims have been filed thus far, resulting in $400 million in insured losses.
The Ohio Insurance Institute says a series of storms from May 20-26 is the third costliest natural disaster in state history.
Only a tornado outbreak in early April 1974 and a windstorm in the aftermath of Hurricane Ike in September 2008 caused more insured loss, says the institute.
The Buckeye State has seen its share of insured losses in the last six months. Most recently, storms in April caused more than $123 million in insured losses. Winter storms in February resulted in nearly $93 million in losses.
Thunderstorms on May 23 and another round May 25-26 have generated nearly 68,000 claims from 25 property and casualty companies that participated in an OII survey. At least nine tornadoes touched down from May 23-26.
The companies responding to the survey account for 82 percent of the auto-insurance market, 79 percent of the homeowners' insurance market, and 31 percent of commercial insurance in Ohio.
Companies surveyed report losses of between $15,000 and $101.5 million, says OII, for a total of $322 million. Homeowners claims account for $214.9 million in losses, says the OII.
Catastrophe risk modeler AIR Worldwide says thunderstorms that struck from May 20-27 are expected to cause between $4 billion and $7 billion in insured losses.