NU Online News Service, June 17, 3:14 p.m. EDT
An industry analyst using a proprietary scoring method for property and casualty insurers says the first-quarter combined score for the top-100 commercial-lines writers reveals the first indication of a possible turn in six years.
In a research report published last week, ALIRT Insurance Research said its composite ALIRT score for the top-100 writers of commercial-lines business fell below 50 in the 2011 first quarter.
David Paul, a principal for the firm in Windsor, Conn., explained to NU earlier this year that ALIRT scores—derived every quarter from an analysis of operating and investment ratios as well as other financial-strength measures—range from 0-100, with higher scores assigned to stronger insurers. The 10-year median industry score is right in the middle—at 50.
A composite score below 50 may act as a leading indicator of a turn, Paul says, explaining that the score can be viewed as a "pain gauge" that can highlight the point when insurers "begin to get fearful about balance-sheet deterioration." When the fear sets in, they may "draw firmer 'lines in the sand' as concerns pricing," ALIRT says in its 2011 first-quarter analysis.
A graph in the report shows that the score—which captures financial changes like surplus losses, rising combined ratios, reserve hiccups and investment risks—has been trending downward since early 2007, but has been above 50 since the middle of 2005. In contrast, back in 2001, the composite was closer to 35 as the market turned from soft to hard.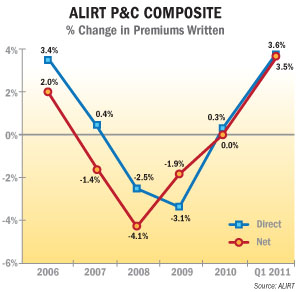 Spotlighting another positive development—from the perspective of insurers—the ALIRT first-quarter analysis notes that net and direct premiums written for the P&C composite of 1,600 insurers show marked upticks compared to last year's first quarter. Net premiums rose 3.6 percent over the prior first-quarter, and direct jumped 3.5 percent.
The report notes that the upward trends were likely driven by exposure-unit growth, since pricing surveys continue to show declining year-over-year rates.
Growth in exposures—demand—"combined with potential exhaustion on the part of underwriters to chase price ever lower…is a positive development," ALIRT concludes.
"While it's too early to tell if the March 31, 2011 composite [commercial] ALIRT score will hold for full-year 2011, heavy catastrophe losses…, continued volatile capital market and economic conditions, and [the] seventh year of soft-market pricing may just prove the catalyst to begin steering the industry toward a pricing turn," the report says.
The report also reveals changes in some of the key financial items that go into the scores, including combined-ratio increases and loss-reserve changes.
While the accident-year combined ratio for the 2011 first quarter was unchanged from the 2010 first quarter—standing at 107.0 for the P&C composite (including personal lines and commercial insurers)—$3.6 billion in loss-reserve releases in this year's first quarter helped pull the calendar-year combined ratio to down near breakeven (100.5 for this same group of insurers).
The report notes that the $3.6 billion takedown in the first quarter is roughly equal to the releases taken for 12-month periods in recent years. According to ALIRT, composite reserve releases averages $3.7 billion per year since 2006.
ALIRT also notes that the three-month 2011 takedown in the first quarter came largely from personal-lines companies for accident-year 2010.