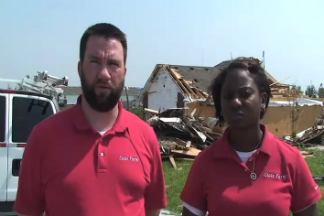 With the unprecedented spring tornadic activity and the recent commencement of the 2011 tropical storm season, independent and staff catastrophe claims professionals are ramping up for a busy year after an extended period of sporadic disasters and few land-falling hurricanes.
What are some of the top concerns facing this unique segment of the P&C insurance community? What do these professionals struggle with day in and day out, year after year in their jobs, which are unlike anything else in the industry?
Here are the top seven concerns as voiced by the professionals themselves, in no particular order.
1. Managing Personal Life
Even catastrophe adjusters with the sunniest of dispositions will admit that a major challenge of the job is the toll it takes on their personal lives. Independents especially struggle with a life and paycheck that is literally driven by the direction of the wind. Not many families are made to handle the kind of stress involved in a deployment that can often last for weeks or months at a time.
"You work seven days a week," says Mary Anne Medina, who has 20 years of experience in handling catastrophes and now manages catastrophe adjusters in the field. "You are away from your family a lot. There are a lot of catastrophe adjusters who miss their kids growing up, who miss birthdays and ball games. You have to have a significant other who understands that kind of commitment."
Roberto Reyes has worked as an independent catastrophe adjuster for seven years, having previously worked for Allstate and Farmers as a staff adjuster. He uses technology to help stay in touch.
"I'm married with three kids, so I've missed birthdays and anniversaries," he says. "There is a lot of personal stress in being away from home. I use Skype to keep in contact with my kids, but that does not make up for the fact that I'm not going to be home for a month at a time. Facebook has been a blessing though because now I can keep in contact and in touch with more friends and family much more quickly than I was before."
2. Emotional Stress and Volatility
While the term "catastrophe" is often used to describe events like hail storms and heavy rains, mega disasters like the ones seen recently in Joplin and Tuscaloosa test a catastrophe adjuster's ability to witness grief and misery.
"When every claim you go to is somebody's life being turned upside down, when every claim in your bag is a total loss, it's extremely difficult on you physically, mentally, and emotionally," says Kevin Hromas, a consultant and independent adjuster who has worked catastrophe claims for seven years. "Someone's house could be completely destroyed and scattered over six counties. That's not something you handle in an hour and then walk away from."
The Katrina aftermath brought emotional stress concerns to the forefront, when many adjusters had to deny homeowners' claims that were caused by flooding.
"One of our adjusters was working in the center of New Orleans where there was heavy flooding," says Bud Trice, vice president of catastrophe services for Crawford & Company. "She had to tell people who had six feet of water in their homes that she could only pay them for a gutter that had blown off. She called in one day and said, 'I can't take it anymore, it's too emotionally draining.'"
3. Emerging Legal Exposures
Pressure from state departments of insurance takes on a vice-like grip post catastrophe, with expectations varying from the unrealistic to the absurd. Many independents in particular worry that these regulations, combined with a high workload and litigious-happy society, will lead to increased legal exposures.
While many independents are protected from errors and omissions by their employers—sometimes referred to as a "courtesy" defense—Hromas fears that safety net could have holes in it.
"Recent court cases in Texas have held adjusters liable for damages not as an agent of a carrier, but rather as personal liability," he says. "It's the first time I've seen that direct assertion. A courtesy defense can be rescinded by a carrier or third party administrator if it's found the adjuster did something wrong, which leaves the adjuster exposed to liability."
4. Time Management
No independent wants to turn down files—especially not when their future workload is always an uncertainty. Balancing a heavy workload is a challenge for catastrophe adjusters, but it's not always due to a surge of activity.
"The biggest challenge I see is that we have a shortage of experienced catastrophe adjusters," says Reyes. "I don't mind getting 100 claims, because the more I work the more I get paid. But on a personal level, it's quite taxing since I can only handle four or five files a day. There are so many new people without any experience that they need people like me to take the brunt of the claim load."
That kind of load expectation is complicated by the sense of urgency and long hours demanded of the job.
"As an adjuster, you do estimates during the day and do your paperwork at night," says Medina. "You don't take off Saturday and Sunday when dealing with disaster scenarios. Policyholders need to be taken care of and issues handled promptly. You don't tell a policyholder who lost his house that you'll get to him after the weekend is over."
5. Feast and Famine
Catastrophe adjusters are built to be productive, working quickly and diligently to get policyholders back on their feet while getting their claims files closed. But some are unprepared for a different type of disaster: a drought of claims-generating activity.
The willingness to put up with that kind of uncertainty is all part of the catastrophe adjuster personality, according to Trice.
"One thing that is very common amongst catastrophe adjusters—the people who truly do this for a living—is their willingness to risk famine for the prospect of reward," he says. "They are not guaranteed a steady diet of work, and they're willing to risk that for those 'fat' years. That's what separates them from the typical in-house staff adjuster that gets a steady paycheck."
"You could have a great year and make six figures, but then have a terrible year the next," said Reyes. "If you don't have proper fiscal discipline, you can get into trouble. I work casualty claims during slow times, but it's nowhere near the type of money you can make working catastrophes."
When one bad year becomes two or three strung together, the risk/reward factor gets tested.
"Despite recent activity, the last three or four years have been extremely slow," says Medina. "There are always catastrophes that people don't hear about, things like hail storms and frozen pipes, but a lot of adjusters have really struggled the last couple of years."
6. Cost of Doing Business
Staying current with equipment and purchasing things like laptops, estimating systems, and cameras, not to mention internet access, is also a big concern. Because independents are paid on a negotiated fee schedule, variable costs can have a big impact on their bottom lines.
"High gas prices have been a tremendous problem to the independent catastrophe adjuster," says Medina. "Most drive larger vehicles so they can carry the equipment they need like ladders and things, so higher gas prices cut into their profits. It affects the insurers, too, since staff adjusters will have those costs reimbursed by their companies."
Adjusters not only face costs not only in terms of getting licensed, but also staying that way.
"You have to be licensed in the state you're working," says Medina. "Sometimes it's difficult for independent adjusters to keep a license in every state, not knowing if they are going to be called to work in that state. If you do get a license, you also have to do the CE requirements to maintain it."
"More and more insurance companies want you to be pre-licensed before they will call you up," says Reyes. "So the more states you are licensed in, the more opportunity there is for work. But that costs money."
7. Physical Safety
It goes without saying that heading directly into a disaster scene has its share of safety issues, too.
"You are out there in the elements," says Reyes. "When you work hurricanes and other disasters, you're going into places with no electricity. In some situations, there are threats like being assaulted, bitten by snakes, falling off a roof, or hitting an exposed power line."
Sticking to protocol and adhering to established safety measures is critical for catastrophe adjusters, whether that means getting vaccinations or wearing appropriate safety gear.
"We had one adjuster who broke the rules and stayed too long inside an area with an ammonia leak, and it affected her breathing for the rest of her life," says Trice. "That is one example of the kind of thing that both the adjuster and management have to worry about in disaster situations."
What about overly aggressive policyholders? It's not a common problem, but situations can get tense, says Trice.
"You have what I call your Type Double-A personalities out there, but we haven't seen truly aggressive behavior from policyholders on any significant levels," he says. "We tell our adjusters that if they run into that kind of thing, back off immediately. It is not their job to outdo somebody."
The challenge of doing a good job and performing under immense pressure amidst extraordinary situations separates the professional catastrophe adjuster from most other insurance professions.
While these seven challenges are a good start, there are no doubt many more. Tell us what you think they are by commenting below.