NU Online News Service, June 9, 12:00 p.m. EDT
Arizona wildfires continue to spread unabated as officials say the Wallow fire has moved through the town of Greer, but there is hope some progress to contain the fire will be made today.
Three major fires in the state have consumed close to 500,000 acres. The largest, the Wallow fire remains uncontained, burning more than 300,000 acres, says the National Interagency Fire Center, resulting in numerous evacuations.
The fire is in the eastern portion of the state in the Apache National Forest area along the New Mexico border.
According to KTAR radio, officials are reporting that the fire moved through the town of Greer overnight, but no one has been able to get back into the area to assess the damage.
Power lines are also threatened, and could cause outages as far east as Texas if the fires spread that far. Reports say that the Wallow fire threatens El Paso Electric's power lines that supply electricity to 40 percent of its more than 370,000 users in western Texas and southeastern New Mexico.
The U.S. Forest Service says a total of 588 structures were threatened as of last night, one was damaged and 11 others were lost.
In addition to the evacuation of Greer, the communities of Eager, Springerville, Sunrise, Blue River, Alpine, Nutrioso and five subdivisions along highway 180/191 have been evacuated.
Nicole Farr, manager of communications for the Arizona Insurance Council, says that with the evacuation order still in effect, homeowners have been unable to get back to their homes and assess the damage to file claims. No one will be able to determine the extent of loss until the winds die down and firefighters can contain the blaze.
"It is impossible to get in," says Farr, "they are not letting anyone in."
She describes Greer and other towns throughout the affected region as small towns geared toward vacationers.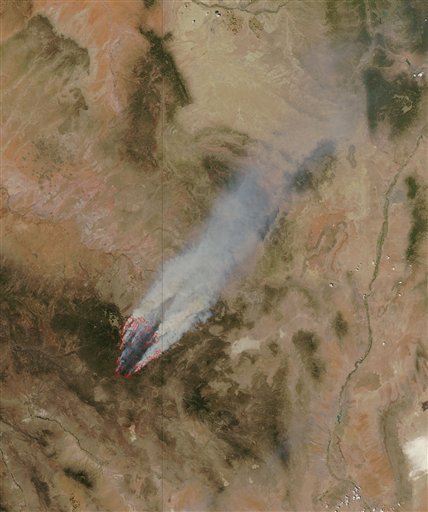 This image provided by NASA shows the Wallow fire in eastern Arizona taken Wednesday June 8, 2011 from the MODIS instrument on board the Aqua satellite. The blaze has blackened about 389,000 acres and destroyed 11 buildings, primarily in the Apache-Sitgreaves National Forest. No serious injuries have been reported. (AP Photo/NASA)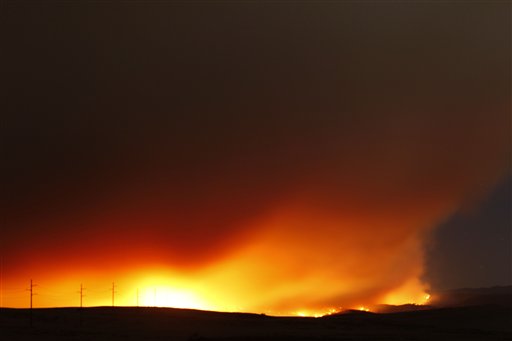 The Wallow fire burns towards Eagar, Ariz, north of Greer, Ariz,, Wednesday night June 8, 2011. The fire in eastern Arizona that already forced thousands from their homes headed Wednesday for a pair of transmission lines that supply electricity to hundreds of thousands of people as far east as Texas. (AP Photo/Rob Schumacher/The Arizona Republic)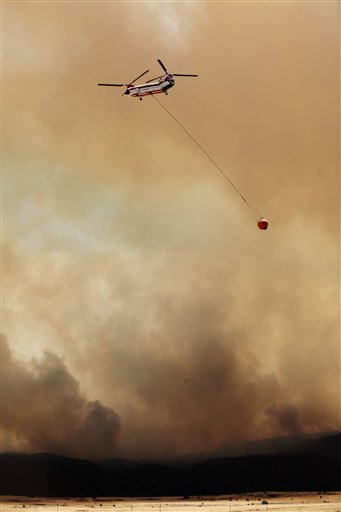 A water dropping helicopter swoops by the burning Wallow Fire outside of Eagar, Ariz., Wednesday, June 8, 2011. A raging forest fire in eastern Arizona has scorched an area the size of Phoenix, threatening thousands of residents and emptying towns as the flames race toward New Mexico. (AP Photo/Marcio Jose Sanchez)
Transmission lines from the Springerville Generating Station stretch south toward the plume of smoke being generated by the Wallow Fire burning near Springerville, Ariz., on Wednesday, June 8, 2011. (AP Photo/Susan Montoya Bryan)