NU Online News Service, June 8, 11:14 a.m. EDT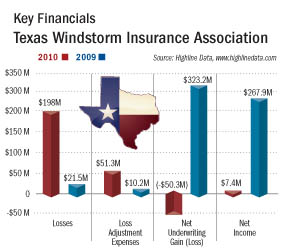 Texas Gov. Rick Perry has added legislation regarding the Texas Windstorm Insurance Association (TWIA) to his call for a special session for lawmakers.
"It is imperative for coastal Texans that lawmakers address the operation of TWIA during the special session, especially now that we are in the midst of a hurricane season that is expected to be above average," Perry says in a statement. "I expect lawmakers to take quick action on this issue to ensure that Texas trial lawyers do not continue to put their personal enrichment ahead of coastal homeowners and Texas taxpayers."
Texas lawmakers ended their regular session without passing TWIA reforms.
At issue are numerous lawsuits filed against the nonprofit, state-run insurer. Joe Woods, vice president, state government relations for the Property Casualty Insurers Association of America, says lawsuits seek treble damages, attorney fees and interest, treating TWIA as an insurance company.
Legislation mulled during the regular session would have limited the amount of time a homeowner has to file a claim after a storm and it would have limited lawsuits that can be brought against TWIA.
Claims from Hurricane Ike in 2008 continue to roll in and losses from the storm for TWIA were at $1.85 billion at the start of the year. The association has received 92,800 claims from Ike, and it was sued 4,800 times. More than 2,500 lawsuits have been settled.
In April TWIA chose John Polak as its new interim general manager after relieving former GM Jim Oliver of his duty.
Earlier this year the Texas Department of Insurance placed TWIA in administrative oversight.