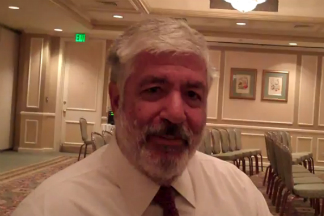 While attending the Bermuda Captive Conference in Southampton, Bermuda this week, PropertyCasualty360.com's Risk Channel Editor Caroline McDonald sat down for an exclusive interview with conference keynoter Robert H. Benmosche, president and chief executive officer of AIG, to discuss public perception of his company and if he would change anything about the past.
PC360: What do you see as the biggest myth about AIG?
Benmosche: I would say the biggest myth was that AIG couldn't come out of this thing as still the largest and the strongest insurance company in the world and that it's been so badly damaged that it just is a shadow of its former self.
Now, it's smaller, but it's still close to being the largest insurance company in the world, which is an amazing fact. We represent, I think, very balanced businesses. So we're not concentrated in annuities, we're not concentrated in life, we're not concentrated in personal lines, we're not concentrated in commercial lines, we're not concentrated in the U.S. We really are a broad set of businesses and we're still a very strong insurance company.
PC360: Looking back, what would you have done differently?
Benmosche: I don't know that I could have done anything differently. I wish others around me would have been more candid. I think some of the people involved in the company didn't really align around the idea that AIG could make it. And the original strategy, 'just sell off and whatever you get, you pay back the government and whatever is missing, tough luck. It's the cost of the bailout,' they didn't think about the fact that this is a company of at that time 100,000 dedicated people.
It's still today a company of 65,000 dedicated people. You're talking about 40,000 jobs in America alone, all of the hundreds of thousands of jobs that depend on AIG being here and doing business. They just didn't think about the people side of it. It was more about the financial aspects of this transaction in a numbers-oriented way.
But this is a great company, people have devoted their life to it. The reason they're excited is because it validates their being part of AIG, it validates that they have a great career and their outlook is going to be great.
It's like going to a university that has a lot of difficulty. Even if you graduated 20 years before, the perception is that you're no longer going to a great university, or your degree gets diminished. So it's all part of that concept.