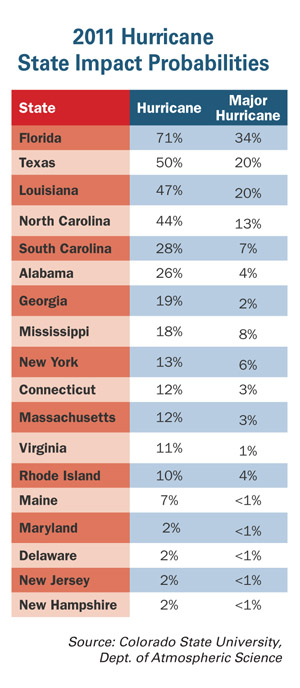 As the 2011 Atlantic hurricane season gets underway today, most forecasters indicate that it will be a busy year for storms with a high likelihood of a hurricane making landfall along the Atlantic and Gulf Coasts.
Maintaining its earlier predictions made on April 6, The Colorado State University hurricane forecast team of Phil Klotzbach and William Gray is still calling for 16 named storms in the Atlantic basin for the 2011 season, with five developing into major hurricanes.
"We are predicting the same levels of activity that were forecast in early April due to favorable atmospheric and oceanic conditions in the tropical Atlantic," says Gray, who is in his 28th year of forecasting at Colorado State. "We continue to anticipate an above-average probability of United States and Caribbean major hurricane landfall."
The hurricane team says its forecasts are based on the premise that global oceanic and atmospheric conditions—such as El Nino, sea surface temperatures, and sea level pressures—that preceded active or inactive hurricane seasons in the past provide meaningful information about similar trends in future seasons.
Recent predictions by other forecasters indicate a similar expectation of activity: an above-average year for tropical storms, but fewer than the 19 that formed in 2010.
In May, the National Oceanic and Atmospheric Administration (NOAA) said it expects 12-18 named storms, with 6-10 becoming hurricanes and 3-6 morphing into major hurricanes.
Weather Services International (WSI) made its most-recent prediction last week, calling for 15 named storms, eight hurricanes, and four major hurricanes for the year.
In today's forecast report, Gray and Klotzbach estimate the 2011 season will have roughly as much activity as was experienced in five similar years: 1951, 1981, 1989, 1996, and 2008.
2008 included such infamous storms as Hurricane Ike—which caused extensive damage as it swept from the Gulf coast through the Midwest, becoming the third-costliest hurricane in U.S. history with $12.5 billion in insured property losses—and Hurricane Fay, which made landfall on four separate occasions.
The team also updated its U.S. landfall probabilities, which are calculated based on historical landfall statistics and then adjusted by the latest seasonal forecast. (see sidebar)
Below are the probabilities for a major hurricane making landfall on various portions of the U.S. coast, according to Gray and Klotzbach:
A 48-percent chance that a major hurricane will make landfall on the U.S. East Coast, including the Florida Peninsula (the long-term average is 31 percent).
A 47-percent chance that a major hurricane will make landfall on the Gulf Coast from the Florida Panhandle west to Brownsville (the long-term average is 30 percent).
A 61 percent change of a major hurricane tracking into the Caribbean (average for the last century is 42 percent).