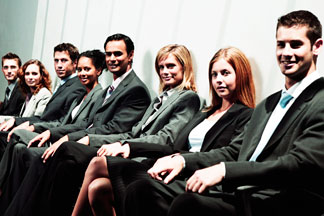 The recruitment of younger professionals in the insurance industry continues to be an issue plaguing the industry. As the industry continues to try to find solutions, business mentorships are often overlooked as an effective means to recruit and retain young talent in the industry.
With ample opportunity for young candidates to enter into an exciting insurance profession, the industry needs to offer prospective candidates more information and guidance. Mentorships are the perfect forum for this. Experienced insurance professionals can help address the industry's talent shortage by considering becoming a mentor for those looking to get started in the industry.
Whether opening the eyes of a candidate to the diversity of job types and areas of interest in insurance or helping a young insurance professional move up in the industry, mentors can play a key role in addressing talent shortages.
For mentees, the rewards are numerous. From obtaining an inside scoop on the realities of the industry to ensuring job security and gaining insights on overall work-life balance, mentorships offer immense value and can act as a major boost for young professionals.
There has never been a better time within the insurance industry to do well. The shortage of talented people has never been more evident. Individuals who are committed towards their education and professional work behaviour can move up the ladder of success quickly. Mentorships will allow candidates to get a clear and accurate picture of the benefits and realities of working in the burgeoning insurance industry.
Below are tips for both mentors and mentees to help with establishing a relationship that works for both parties:
Ensure a two-way dialogue. Mentorships are about listening and learning, but mentees should also be able to find their own voice and outlet as well. Mentors need to be willing to let their mentees speak freely while addressing any of their concerns or questions. Mentors that simply talk at individuals will offer little value. As a mentee, do not hesitate to pipe up and ask questions.
Mentorship is about sharing. If you are not willing to share, then neither party will experience the full benefits of having a mentor. Mentors should be willing to share their career experiences and mentees need to be open and honest in return.
Clarity is essential. Before approaching or establishing a mentorship, it is the responsibility of the employee or mentee to outline: 1) what they want out of the relationship and 2) a general structure for meetings, conversations and take-away tasks. The mentee must lead the course and ensure the relationship stays on track.
Mentorships can build job security. This is especially true for internal business mentorships (your mentor works for the same organization). Mentors can help candidates to understand ways to keep their job secure and move up the company ranks, so look for one inside your business or company if possible.
It is about working smarter, not necessarily harder. Mentorships require time from both parties involved. Time should be used wisely, focusing on concrete tips and tricks for becoming more efficient, flexible and resourceful at work.
The buck stops at the employee. It is essential that employees understand they have a responsibility toward their career success. It is not just about sitting back and waiting for things to happen. Finding an engaging mentor can be a significant step towards this and of course, hard work.
Be open. Mentees have a lot more than just career advice to gain in a mentorship relationship. Mentors can also speak about education, motivation and work-life balance. Find out from your mentor what the key points to long time success and happiness are.