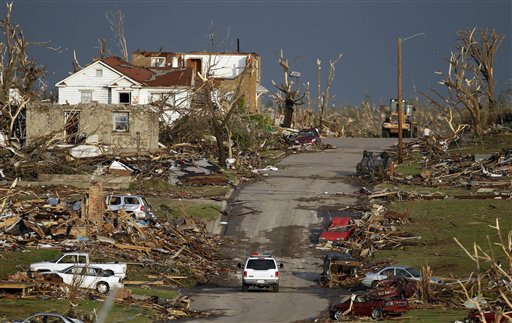 NU Online News Service, May 23, 3:19 p.m. EDT
Insurers are once again responding to a community reduced to debris by a massive tornado, this time in Joplin, Mo.
American Family Insurance spokesman Steve Witmer calls it a "tragic weekend" for the city of about 50,000 in Jasper County, near the state's borders with Kansas and Oklahoma.
The May 22 twister is said to have killed nearly 90 people—and officials say that number will probably increase. Search-and-rescue efforts continue, reports State Farm spokesman Jeff Davis.
"It went right through the heart of Joplin," says Davis, who called the damage "severe." The tornado destroyed residences, a hospital and commercial structures—including those that housed a Wal-Mart and a Home Depot, he adds.
Slideshow: View the Damage in Joplin, Missouri
Efforts made by homeowners and emergency personnel to get into the affected areas continue to be hampered by the weather, says Davis. Today, thunderstorms struck the region and forecasts are not favorable.
Davis says initial claims counts were not yet available.
Witmer says American Family had received 75 property-insurance claims in the Joplin area, "but that number is surely increasing."
"We've heard there are some telecommunications issues, so there may be a bit of a delay in reporting claims," he adds. "American Family Insurance brought in about 20 adjusters who were supporting other storm operations, and we will bring in more as we get a handle on Joplin's needs. We also have a mobile catastrophe vehicle en route to Joplin."
Sunday's storm system, which included high winds and hail, caused damage elsewhere. Witmer says American Family has received about 130 claims in the Minneapolis/St. Paul, Minn. area, including 30 from customers whose residences were substantially damaged. And the same storm system generated about 45 claims in the La Crosse, Wisc. area, Witmer reports.
Reading, Kan., was also hit by the weather system, reports the Insurance Information Institute (I.I.I.).
Allied Insurance, of the Nationwide Insurance Group, says it has received about 115 claims of varying degrees of severity.
Missouri had previously fallen victim to this year's historic tornado season—one of the worst ever for tornado-related deaths, with a count of about 450.
About a month ago a tornado with winds of approximately 165 mph tore through the St. Louis area.
Catastrophe risk modelers say insured losses from late-April tornadoes will fall between $2 billion and $6 billion. Earlier this month insurers began reporting losses they expected from the severe weather in April. Most notably, Allstate says it estimates $1.4 billion in losses attributable to claims in April.
Tornadoes this spring "have been some of the costliest—and deadliest—in U.S. history," says Robert Hartwig, president of I.I.I. "Insurers have the financial and human resources to respond effectively to these tragic natural disasters."
Tornadoes caused $97.8 billion in insured losses in the U.S. between 1990 and 2009, making these weather events second only to hurricanes ($152.4 billion) over this same time period as the costliest natural disasters. In the past three years (2008-2010), severe thunderstorms and tornadoes have caused about $30 billion of the $97.8 billion total, I.I.I. says.
According to Highline Data the top writers of personal lines in Missouri in 2010 were State Farm, with a 24.8 percent market share; American Family Insurance Group (16.2 percent); Zurich Insurance Group (6.7 percent); Shelter Insurance Group (5.8 percent); and Progressive Group and Liberty Mutual Insurance Group (5.1 percent).