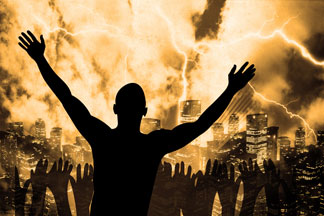 Are you ready for the world to end on May 21? Well, it's not really ending for everyone, just the select few Christians who will be swept into Heaven while the rest of us schlubs are left to deal with the horrors of the Final Days of Earth.
Before you hit the panic button, consider that the prognosticator of this event is Harold Camping, a Christian radio broadcaster who's been wrong before about this sort of thing. But considering what kind of a year it's been so far–with earthquakes, nuclear meltdowns, tornadoes and the demise of Osama bin Laden–just about anything is possible.
And as with most disasters, the insurance industry stands to make a profit from the Rapture. If you think the Japan earthquake and Mississippi flooding presented problems with the manufacturing supply chain, consider the business implications of some 2 billion people worldwide just up and disappearing one day–whether by Rapture, alien abduction or just going on a short visit to see Elvis, Jim Morrison and Tupak. If this isn't an opportunity to market business interruption coverage, I don't know what is.
Property-casualty coverage should be selling like hotcakes, considering the accidents and other disasters that will inevitably happen when the Chosen are snatched from behind the wheel (and the "act of God" exclusion could let insurers off the hook for many of the sure-to-be massive claims). Although one creative wag is selling $100,000 rapture insurance on e-bay for a starting premium of $19.95, there's no mention of terms and conditions or the insurer's A.M. Best rating, so the agent commissions are probably miserable.
And don't forget to cross-sell personal lines! Life insurance sales are sure to be a win-win; everybody will want coverage, but insurers can successfully dispute claims because there won't be any proof of death.
The whole purpose of insurance is to provide peace of mind to the buyer. That's the thinking behind Eternal Earth-Bound Pets USA, a real company which is marketing pre-paid coverage to ensure the care of the left-behind pets of Heaven-bound people. The cost: $135 per pet. (Although the coverage begs the question of why pets are exempt from the Rapture; remember the great old "Twilight Zone" episode where the old hillbilly refuses to go to a false Heaven because they won't admit his hound dog?)
Like any good trusted advisor, agents specializing in Rapture issues need to anticipate all their clients' needs. To help them tie up all loose ends, you can work with "You've Been Left Behind," another real service that will automatically notify a client's friends and loved ones via e-mail that they've gone to heaven 6 days after departure (whenever that might be). The service can store and send up to 250 MB of documents to the clients' left-behinds for a mere $14.95 a year.
For those of you making the trip on Saturday, bon voyage–and be sure to check our web portal to see if Rapture insurance sales are what finally turn the soft market around.