The overall composite rate for U.S. property and casualty in April was down 4 percent, unchanged from the previous month, according to Dallas-based MarketScout's latest "Market Barometer."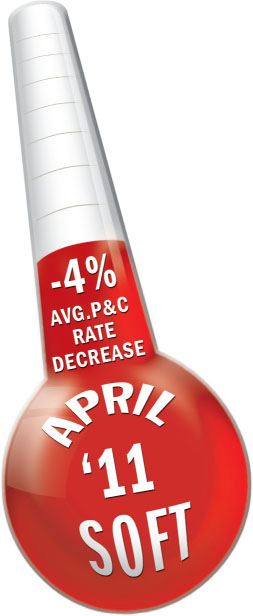 Richard Kerr, CEO of MarketScout, says in a statement: "There were no surprising results in April. The market continues to moderate. Were it not for the discounts which provided large-account business, rates would have been down 3 percent for April."
By industry class, manufacturing rates declined the most, coming in at minus-5 percent, followed by the contracting class at minus-4 percent. Rates declined by 3 percent for energy, 2 percent for service and transportation, and 1 percent for habitational and public entities.
By coverage class, general liability and umbrella/excess saw the deepest declines, coming in at minus-4 percent. Commercial auto, business interruption and commercial property were all down 3 percent. Workers' compensation, professional liability, directors and officers liability, EPLI, and fiduciary were all flat.
Broken down by account size, larger accounts saw bigger discounts than smaller ones. Rates for jumbo accounts (over $1 million in premium) were down 4 percent, and rates for large accounts ($250,001 to $1 million) were down 5 percent. Medium accounts ($25,001 to $250,000) saw rates down 3 percent, while small accounts (up to $25,000) were down just 1 percent.
Commenting on the MarketScout report, analysts Meyer Shields, Vincent M. DeAugustino and Arash Soleimani with Stifel, Nicolaus & Co. say, "We see the domestic outlook for primary commercial insurers as mostly negative."
The analysts add that they would point investors toward personal-lines insurers rather than commercial-lines. "Personal-lines rates are already rising at or above loss-cost inflation rates, supporting steady or improving underwriting profits," the analysts say. "We anticipate market-share gains for those (mostly bigger) insurers that can leverage economies of scale into competitive, but still adequate, pricing."
"Recent years' personal-lines profits haven't been unduly boosted by reserve changes…so the underwriting profit deterioration we expect fading reserve releases to produce within commercial lines shouldn't affect personal-insurers' earnings."
The Stifel Nicolaus analysts say they also favor some of the major insurance brokers. "In 2009 and early 2010, recessionary and soft-market-related pressures were almost insurmountable headwinds to organic revenue growth, but both headwinds are diminishing, implying improving organic growth in 2011 and beyond."
They add, "Unlike the carriers, the brokers' hard-market upside potential isn't offset by reserve charges or loss-cost inflation, so much of the top-line impact should drop to the bottom line."