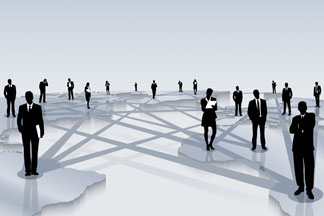 I'm a big fan of LinkedIn, especially the wide variety of groups that you can join, on just about any professional topic. Search "insurance agents" alone, and you'll get a list of more than 450 groups, segmented by specialty, interest, carrier or location.
An interesting question is up for discussion in the aptly named "Insurance Geeks" group, which regularly tackles tough contract issues and more philosophical topics. One that caught my eye is, " Who or what is/are the most influential people in the insurance business?"
Because group members come from all walks of the industry, the responses are varied, but independent agents are well represented. Some of the names that made the short list included, in absolutely no order, are also on mine:
Bill Wilson – long-time head of Big I's IIABA Virtual University and a recognized leader on insurance education.
Rick Morgan – senior vice president of Aartrijk and an early adopter and proponent of cutting-edge agency technology.
Chris Burand – agency management specialist.
Steve Anderson – another recognized name in agency technology and management.
Cheryl Koch – agency management consultant and educator.
Peter van Aartrijk – insurance branding and marketing savant.
Shirley Lukens – Reagan Consulting star, spearheads the Best Practices system.
Chris Amrhein – our own "Policy Issues" columnist and beloved industry educator.
Don Malecki – more than 45 years' experience in just about every aspect of insurance.
Jack Gibson – president of IRMI, risk management speaker and author.
Chuck Schramm – Illinois-based insurance educator and consultant.
Dennis Garrett – executive VP of Independent Insurance Agents of Illinois, educator and author.
Pam Mitroff – healthcare consultant and director of state affairs for the National Assn. of Health Underwriters (NAHU).
Other observers cited state insurance commissioners, "those that control capital in the reinsurance market," and the consumer.
Who's on your short list, and why?