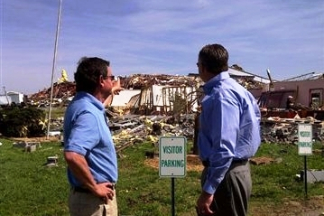 NU Online News Service, April 19, 1:05 p.m. EDT
Residents and insurance adjusters from Oklahoma to North Carolina are sorting through piles of debris left by the massive strength of more than 200 tornadoes.
State Farm says it has received more than 15,000 claims from the storms. Hundreds of claims adjusters are in the hardest-hit areas in North Carolina and Virginia.
A significant number of homes will be declared uninhabitable or have sustained major structural damage, State Farm says.
Steve Carroll, vice president and general manager for North Carolina Farm Bureau Insurance, says homes were lifted up off foundations and thrown dozens of yards.
"It's so unusual—so amazing," he adds, referring to the extensive destruction left by the storms. North Carolina appears to have been one of the hardest-hit states as the storm system moved east from Oklahoma April 14-April 16.
Related: View Slideshow of the Tornado Damage
"We're used to handling damages from one [tornado] that hits a specific area, but this is everywhere; there were so many," Carroll says.
North Carolina normally gets about 20 tornadoes per year. Experts say the state was hit by as many as 20 on April 16 alone.
Thus far NC Farm Bureau has received 2,700 home, automobile, farm and commercial claims. Losses from these claims total about $21 million, but Carroll expects the claims number and losses to at least quadruple—to about 10,000 claims and $100 million of insured losses.
The state's third-largest personal-lines writer is treating the aftermath of the tornadoes like the aftermath of a hurricane, deploying its greatest catastrophe response, says Carroll. Adjusters in state are being relocated, independent adjusters have been called upon, and others from the Farm Bureau family are headed in.
State Farm spokeswoman Kim Conyers says the insurer has received about 2,200 homeowners claims and 1,250 auto claims.
"I imagine this is a really challenging storm for the industry because it's so widespread and so severe," she says. The insurer is deploying resources in and out of state to assist in the recovery, handling the most significant claims first. Another 300 homeowners claims have come from Virginia, Conyers adds.
The severe weather from Thursday through Sunday affected Oklahoma, Arkansas, Alabama, Mississippi, the Carolinas and Virginia. Forty-five people died as a result of the storms.
Nationwide has taken 2,000 home and auto claims in North Carolina as of April 19, says spokeswoman Elizabeth Giannetti. Claims counts are expected to rise significantly as 300 associates are now on the ground to assess damages, write checks and help file claims.
Mobile catastrophe units are stationed in Holly Springs, Sanford and throughout Benson, Fayetteville and Bertie counties to assist policyholders and provide humanitarian aid.
Allstate spokeswoman April Eaton said the company is seeing downed trees, snapped telephone poles, damage to roofs, and hail damage. The insurer has five mobile claims centers in North Carolina, Mississippi, Alabama, South Carolina, and North Carolina. The locations in the Carolinas are drive-in claim centers to meet the increased auto claim volume, she adds.
Catastrophe-modeler AIR Worldwide says April and May are the worst times for tornadoes in the South. However, the weekend's storm system "was unusual because of its size and duration," says Tim Doggett, AIR principal scientist. Many tornadoes touched down in open fields, but North Carolina and Virginia are expected to see the most insured losses, AIR says.
The National Weather Service is forecasting more severe weather with the possibility of tornadoes later today through Tuesday.
According to Highline Data, the top writers of personal lines (home and auto policies) in North Carolina in 2010 were Nationwide with a 17.5 percent market share, State Farm (15.8 percent), North Carolina Farm Bureau Insurance (11.1 percent), Allstate (9.7 percent), and Berkshire Hathaway and USAA (tied with 5.4 percent).
Highline Data is a part of Summit Business Media, which also owns National Underwriter.