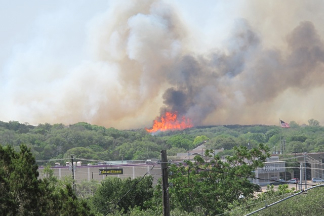 NU Online News Service, April 18, 3:20 p.m. EDT
There is "no end in sight" to the wildfires in Texas that have charred more than 1.5 million acres, and windy conditions are making matters worse, according to the Insurance Council of Texas (ICT).
Most recently a fire started Sunday in Austin, Texas, and spread quickly through a neighborhood, leveling eight homes and damaging 10 others, says Mark Hanna, spokesman for the ICT.
Many of the 20 wildfires currently being fought by firefighters in the western half of the state remain out of control.
Gov. Rick Perry says 252 Texas counties are presently threatened or impacted by wildfires. There are 254 counties in Texas.
Firefighters from Texas and nearby states, as well as the National Guard with the help of Apache helicopters and military cargo planes, have battled more than 7,800 fires that have destroyed 244 homes since the wildfire season started, ICT reports.
Perry has asked President Obama for a major disaster declaration, which would allow for federal response and assistance.
"As wildfires continue to rage across our state, Texas is reaching its capacity to respond to these emergencies and is in need of federal assistance," Perry says in a statement.
Texas Forest Service has more than 750 personnel deployed to multiple fires.
Burn bans are in place for 195 counties.