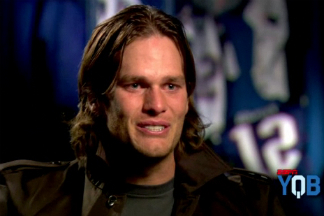 He is one of the best quarterbacks in the National Football League. He's won Super Bowls. He makes millions of dollars. He's married to a supermodel.
Yet Tom Brady's career in the NFL did not begin the way he had hoped. Scouts said he was slow, lacked strength, and was knocked down too easily. On draft day the University of Michigan quarterback waited until the sixth round, the 199th overall pick, before he heard his name.
And what was the first thought that went through his head when the New England Patriots finally called?
"I was so excited, I was like, 'I don't have to be an insurance salesman!'" he says to Steve Sabol, president of NFL Films, during The Brady 6, a one-hour documentary about Brady's draft experience and the six quarterbacks who were taken before him. The film aired on ESPN on Tuesday night.
Apparently insurance was an option if a career in the NFL didn't pan out. Brady's father is an insurance consultant.
Brady's exclamation occurs at about the 1:50 mark in the video below.