NU Online News Service, April 11, 2:44 p.m. EDT
Insurers have begun to size up the extent of damage left in the wake of dozens of tornadoes that struck several Central Plains states over the weekend.
Steve Witmer, spokesman for American Family Insurance in Madison, Wisc., says the insurer has "declared a catastrophe operation" in the La Crosse, Wisc. area, meaning additional resources are being sent in to deal with the expected influx of property insurance claims from wind and hail.
Other areas of Wisconsin affected are Kaukauna and Fox Valley, he adds.
"We're getting our ducks in a row right now, checking in with local claims offices to assess what kind of volume they can expect to see," says Witmer.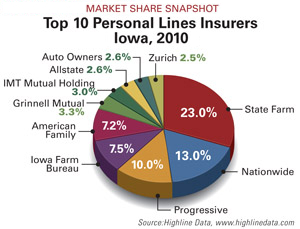 Damage reports are also coming out of Minnesota, Nebraska and Iowa. A strong tornado in Mapleton, Iowa, caused extensive damage to the small town. The National Weather Service (NWS) says more than two dozen tornadoes were reported in Iowa over the weekend.
The bulk of claims thus far appear to be coming from Wisconsin. Ann Avery, spokeswoman for State Farm, says the insurer has already received 500 homeowners and 400 automobile claims from Wisconsin.
State Farm has received 150 homeowners and 150 auto claims out of Iowa. Another 150 homeowners claims and 200 auto claims have come from Minnesota and Nebraska combined, she adds.
Avery says she could not speculate on the severity of the claims, but extra claims representatives are being sent to the most hard-hit areas.
Witmer says Wisconsin has seen some tough weather the last two weeks. A string of wind and hail storms April 2-3 caused 4,600 property claims and 2,000 auto claims, he says.
According to Highline Data the top homeowners insurers in Wisconsin in 2010 were American Family (22.9 percent market share), State Farm (17 percent), Allstate (4.2 percent), Zurich Insurance Group (3.9 percent) and Acuity Mutual (3.7 percent).
Highline Data is a part of Summit Business Media, which also owns National Underwriter.