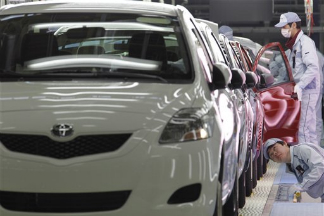 NU Online News Service, March 18, 3:16 p.m. EST
The global supply chain disruption as a result of the Japan earthquake can be immediately identified. Just type the phrase into your favorite search engine.
Sony Ericsson said it is in contact with key suppliers to identify relocation of certain component manufacturing, and looking at other sources of supply. Caterpillar said two facilities in Japan continue to operate but the current situation is having some impact on production. Semiconductor equipment manufacturer Tokyo Electron Ltd. is arranging apartments for dislocated employees and said operations are expected to resume in two weeks. ON Semiconductor said infrastructure services such as fuel, electricity, water and logistics have been impacted by the magnitude 9.0 earthquake and tsunami in northern Japan on March 11.
The list goes on.
The cost to insurers is not clear. These types of claims take a while "to trickle down and quantify," said Al Tobin, head of the property practice at Aon Risk Solutions. "We're not sure how this will impact us, but we definitely will have a lot of potential supply chain loss."
A "few" claims have surfaced already, Mr. Tobin said.
Thus far, disruption has not manifested itself, said Gary Lynch, head of supply chain risk at Marsh Risk Consulting.
Mr. Lynch said the best approach is the worst-case-scenario approach. "Assuming the worst is the best way to go," he said.
Companies should develop an effective mitigation strategy immediately, he added. Most have a plan.
Soon after the quake, managements' focus had been on safety. Now companies will begin to look at "getting an understanding of what they don't understand," like whom a first-tier distributor is, said Mr. Lynch.
Mr. Lynch and Mr. Tobin said disruption depends on warehouse supply—the buffer that may keep a company above water until products are again flowing steadily out of Japan.
However, due to the economy, robust warehouse supply is likely not the norm, said Mr. Tobin.
"Companies have had to tighten belts, which can mean they don't have big supplies to hold them over," he said.
Mr. Lynch said this tipping, or inflection, point is crucial. "At what point in this will our ability to replenish be affected?" he said companies will ask.
In the meantime companies—scrambling to ensure they do not violate contracts—can incur additional expenses related to alternative transportation plans, or having to purchase products or components via a secondary vendor, probably at a higher cost.
"There's usually some tolerance within the first few days," Mr. Lynch said. After that, companies will be expected to meet their contractual obligations.
Supply interruption could also have an impact on personal lines insurers in the U.S., according to Stifel Nicolaus. In a report, Meyer Shields, an analyst with the firm, said auto insurers could be affected by a shortage of spare parts manufactured in Japan.
Mr. Shields said vehicles manufactured in Japan account for between 8-10 percent of the U.S. auto market. The figure does not include foreign brand cars manufactured in the United States that use parts manufactured in Japan. The implications are that supply interruption could lead to shortages, which in turn could lead to an increase in the price for parts and for new cars, he said.
On the homeowners side, as Japan rebuilds, the demand for lumber and other building materials will be huge, "which could boost residential repair costs in the United States," especially if there is a demand for timber out of the U.S. Northwest and Canada, he said.
"While we expect any impact to be manageable, we see homeowners having the biggest risk because there are fewer cost-efficient substitutes," he said.
On the auto side, the impact would be softened by the abundance of aftermarket parts available for repairs and domestically produced new vehicle substitutes.
Overall, personal lines rate increases continue to outpace loss costs. According to the February Consumer Price Index, auto premiums rose 4.2 percent compared to January's 4.5 percent.
Increase in homeowners showed more stabilization, with an increase of 1.7 percent in February opposed to 1.5 percent on a year-over-year basis in January. The average increase for the second half of 2010 was 3.6 percent, according to Mr. Shields.