NU Online News Service, March. 9, 3:06 p.m. EST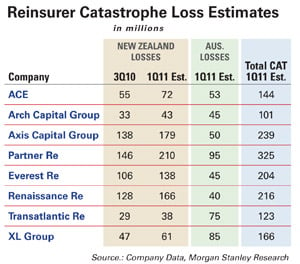 Based on property and casualty companies' pre-announcements and other data, losses from the Feb. 22 New Zealand earthquake damages could be as much as three-times worse than the September quake in the same region, Morgan Stanley said.
In an industry view on P&C insurance, Morgan Stanley said it is revising downward its expected 2011 first-quarter earnings per share for the eight global reinsurers it follows based on the quake loss estimates. Morgan Stanley said this is the third time in seven weeks it has lowered first-quarter estimates.
"We first lowered 1Q due to the Australian floods on Jan. 19 and then again on Feb. 22 when the New Zealand quake first struck," Morgan Stanley said. "We are again cutting numbers using 1.3 times the September event loss levels as a guide."
Morgan Stanley said it expects first-quarter return on equity of 3 percent for the eight companies, which include ACE, Arch Capital Group, Axis Capital Holdings, PartnerRe, Everest Re, RenaissanceRe, Transatlantic Holdings and XL Group.
Yesterday, PartnerRe said it expects its losses from the February New Zealand quake to be between $180 million and $240 million. The company said its estimate is based on expected industry losses of $7.4 billion to $11.1 billion.
Morgan Stanley said it expects industry losses of between $4 billion and $12 billion.
Morgan Stanley said it is seeing slight improvement in pricing trends "in certain pockets of the global reinsurance marketplace." The firm's industry view states, "Asia Pacific pricing seems set to increase 10 percent-plus with April 1 Japan renewals around the corner."
The industry view adds that some companies are pointing to the new Risk Management Solutions (RMS) catastrophe model as a "stabilizing force" for July 1 renewals. Morgan Stanley said its view remains: "We are late in the P&C cycle and any improvement is a 'free option' from current levels."
Morgan Stanley said ACE, Axis and RenaissanceRe remain its "favorite global reinsurers" due to their excess capital that facilitates shareholder returns and ROE stability late in the cycle.