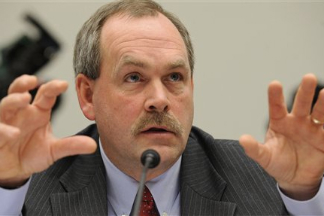 NU Online News Service, Feb. 16, 3:07 p.m. EST
The role that insurance agents play in the health marketplace in 2014 and beyond will likely be left up to the states, said Joel Ario, head of the insurance exchange bureau of the federal Department of Health and Human Services (HHS).
Consistent with comments made by Kathleen Sebelius, HHS secretary, on Tuesday before the Senate Finance Committee, Mr. Ario said HHS prefers that states manage the exchanges and that the federal government will step in "only if there is no alternative."
Speaking at the annual Capitol Conference of the National Association of Health Underwriters (NAHU), Mr. Ario also promised that states will have flexibility in determining the role of agents in the "navigators" system—a component of the health care law that agents fear is designed to limit or eliminate their role in the health care system.
Mr. Ario said states will have significant flexibility to define exchange "navigators," with each state likely to be given the authority to decide whether its navigators must be licensed.
"The intent of the navigators is not to replace agents," Mr. Ario said, but to reach out to "hard-to-reach populations not currently served by agents."
He explained that this market segment included the "less affluent who are going to get coverage through the exchanges."
He added, "I don't see a conflict between the agents and the navigators."
In later comments, Susan Voss, Iowa insurance commissioner, appeared to imply that the states, too, envision a strong role in the exchanges for agents.
She did so by strongly endorsing agent involvement in marketing of all health insurance products, noting that state insurance departments "just don't have the people to serve the consumer the way the agents do today."
Mel Schlesinger, incoming NAHU president and an independent agent in Winston-Salem, N.C., said he took Mr. Ario's remarks to indicate that HHS "is pretty open" to hearing what everyone's views are and is also seeking to be "fair and impartial" in decisions regarding the future of the health care marketplace.
He also made clear the views of agents regarding the sensitive navigators' issue.
"There are strong incentives for agents to go after the underserved population," Mr. Schlesinger said.
In the past, agents did not seek out these potential customers because they could not afford coverage, he said. But, he added, "if there are going to be navigators, they still need to be licensed insurance agents. Even if the navigators are accessed through call centers, they should be licensed agents."
He concluded, "If they are going to make recommendations to consumers, if they are going to understand the industry, why shouldn't they be licensed?"
Also brought up at the NAHU meeting, Rep. Mike Rogers, R-Mich., said he will sponsor legislation in the coming weeks that would exempt health insurance agent commissions from the medical loss ratio formula.
Currently, the medical loss ratio formula requires that insurers pay agent commissions out of the 15- to 20 percent component of health care premiums reserved for administrative expenses. Insurance agents have argued that their commissions should not count toward administrative expenses.
In her comments, Ms. Voss said that agent commissions should be part of the 80- to 85 percent of premiums reserved for medical expenses.
She explained that commissions on the sale of health insurance policies "don't go to the bottom line" of health insurers but are fees paid to health insurers only to reimburse agents for services they provide.