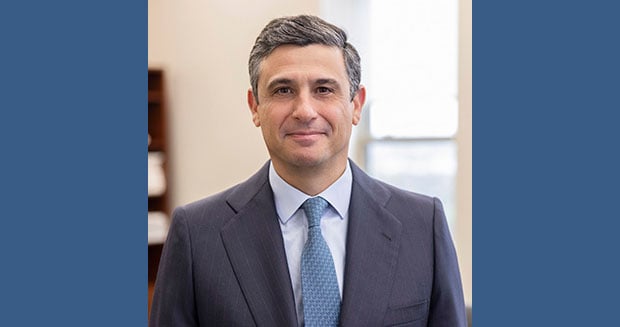 Editor's note: In March 2022, I attended MAPFRE's annual General Stakeholders Meeting and met with Jaime Tamayo, CEO of MAPFRE North America. MAPFRE is the largest Spanish-owned insurer in the world, the largest multinational insurance company in Latin America and one of the 15 largest European groups in terms of premium volume. Tamayo's experience with MAPFRE in many locations gives him a unique perspective on the state of the property & casualty insurance market. Here are his thoughts on some key issues facing the P&C industry.
PropertyCasualty360: Would you please tell me a little about your background and how you came to the insurance industry?
Tamayo: Next year will be my 30th year in the industry, always with MAPFRE. I started my career in Spain, back in 1993. Soon after, I began my international career with the company, which has taken me to Puerto Rico, Florida and Massachusetts, over a 24-year period. I became COO of MAPFRE USA in 2008 and CEO in 2010, and later spent four years in Spain running MAPFRE's International Territory, which includes the United States. I returned as MAPFRE USA's CEO in 2021.
Since 2001, I have been in charge of MAPFRE's U.S. operations, which have evolved from the small personal auto operation that we had in Florida back then, to our current leadership position in the personal lines segment in Massachusetts and our presence in 11 other states, in addition to our leadership position in the P&C market in Puerto Rico, all of which form the current MAPFRE North America division.
PropertyCasualty360: Congratulations to MAPFRE on celebrating its 50th anniversary. What do you think has contributed to the company's ongoing success in a difficult industry?
Tamayo: MAPFRE USA's talented and dedicated employees have been critical to our success over the years with their relentless focus on achieving our business objectives to advance our strategy and their best-in-class service to our customers. I know they will continue to play a key role in our future success.
We also owe our success to our most important business partners, our trusted independent agents, whose expertise and deep commitment to our customers have been vital to our overall growth and profitability. We strive to provide our agents with competitive products and pricing and the services that they need to offer MAPFRE as the carrier of choice to their customers. We have developed a very strong agency network by focusing on what matters most to them as they grow their business.
PropertyCasualty360: What do you think is the biggest change in the U.S. insurance industry since you joined MAPFRE in 1993? What is the biggest change in the industry globally?
Tamayo: The evolution of technology and the use of advanced analytics and modeling have changed our industry dramatically, both in the United States and around the world. Technology has transformed how we do business, from selling policies and collecting premiums, to reporting and resolving claims. Although the fundamental technical principles remain, most processes have been automated and the race for efficiency dominates the market. Similarly, advanced data analytics and modeling have become core capabilities in today's ultra-competitive insurance industry.
PropertyCasualty360: What are the biggest challenges facing the industry in the next few years?
Tamayo: The persistent economic volatility and uncertainty will challenge the industry to better manage the fundamentals of our business, as we continue to respond to inflationary and supply chain pressures, while meeting the needs of our customers and agents. Rising reinsurance costs will also continue to affect the industry and the ability of carriers to write property business.
PropertyCasualty360: Many have commented that personal auto insurance has become so commoditized that it's not a good line of business to be in. Do you agree?
Tamayo: No, we do not agree. The U.S. personal auto market is the world's largest, and it is a very important line of business for MAPFRE.
While direct writers focus mostly on price, carriers need to be very good with analytics and pricing segmentation to participate in this competitive market. It is also important to stress that carriers add value by selling protection. That is, offering the proper coverages to protect their customers, if and when the need arises. Working with their trusted, independent agents, customers can better understand the various coverage options to choose the best product that meets both their risk and pricing needs.
We want to be there for our customers when they need us, and that is why we intend to remain in this line of business.
PropertyCasualty360: We're seeing rising inflation across the U.S. and around the world. How does that impact the insurance industry and its customers?
Tamayo: Rising inflation is affecting all economic segments, and the insurance industry is not immune to the challenges. The increased cost of vehicle parts, building materials and labor, combined with supply chain shortages, are pushing up the value of claim settlements. Unfortunately, customers are likely to see rate increases as carriers try to navigate these challenges, which will influence shopping behaviors in the market, making it even more competitive.
PropertyCasualty360: MAPFRE has a strong presence in Spain and Latin America. As your customers move around, especially to the U.S., do you see a need for more basic insurance information in Spanish for those whose first language is Spanish?
Tamayo: Yes, MAPFRE has a large number of Spanish-speaking customers, including in the United States. To ensure our Spanish-speaking customers understand their insurance needs, get the appropriate coverage, and are confident that their claims are being handled effectively, we offer bilingual services in our call center, as well as informational materials and documentation in Spanish.
PropertyCasualty360: What is the most important thing for readers to understand about MAPFRE in the U.S.?
Tamayo: During the past 50 years, MAPFRE USA has been dedicated to providing the best products and services to our customers and agents, and we look forward to serving them during the next 50 years and beyond, using our current leadership position in the Massachusetts personal auto, home and commercial auto lines of business as our platform for growth.
Related: