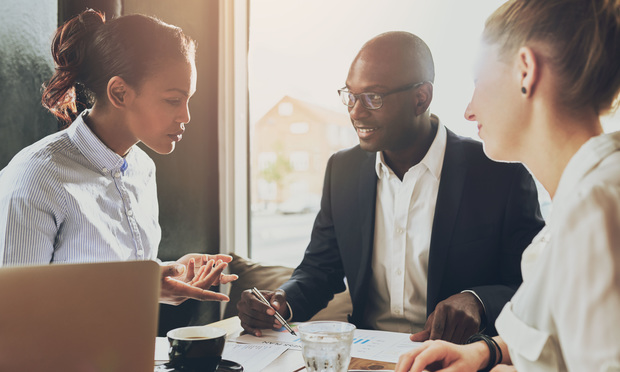 The decision to start a new business is only the first of many on an individual's journey as an entrepreneur.
Initially, there's excitement and anticipation. But there's also fear, trepidation and risk.
Though new business owners may expect to experience roadblocks and frustrations, running a business requires more than emotional preparation. Whether they are new to their industry or starting their business with a different title and point-of-view, there's still much to be learned. Gauging the market, building out a team and a customer base, and perfecting their product or service all require time and attention.
The risk management aspects of business ownership are complex and require expertise. There are three key preemptive actions any new business owner can take to avoid unnecessary risk.
No. 1: Visit a small business lawyer.
Soon after starting a new business, owners should seek legal counsel. Though it's possible to create an entity independently, it's often best to provide a new company with more foresight than a sole proprietorship and a contract printed from the internet.
An attorney can offer actionable counsel on how to properly set up the entity. For instance, will the enterprise be a limited liability company (LLC), or might there be multiple LLCs for various operations under one corporation? If there is more than one owner, there may be a need to legally divulge ownership percentages. An attorney may even recommend creating a board of directors.
A new business owner's relationship with a small business lawyer doesn't end once the company name is registered. Now the entrepreneur needs to determine whether a re-useable service agreement, terms and agreements, or a buy-sell agreement will best protect their business. A lawyer can determine which of these documents is most appropriate.
Such contracts are unique to each business as well as enforceable by law. This is another reason new business owners don't want to rely on a free downloadable versions available online.
An attorney also can make any other recommendations to protect the enterprise, such as patents for products or ideas, trademarks and copyrights to protect any intellectual property.
No. 2: Consulting an insurance specialist.
It's impossible to mitigate all business risks, but there are actually advantages to being a new business owner in this regard. They can hope for the best and prepare for the worst with business liability insurance.
It's highly discouraged to start any business operations without a general liability insurance policy. This is the most basic insurance policy type, but it still offers robust protection against potential lawsuits. Each year, lawsuits against small businesses account for more than $100 billion in losses in the U.S. alone, according to the U.S. Chamber of Commerce. Business owners also can add property coverage to their policy to insure any buildings, equipment, or products the business is using against physical damage.
Even with a simple business plan, risk management can be complex. This is where insurance professionals become invaluable: They can provide customized recommendations on a business's coverage needs. Beyond a standard business owner's policy (BOP), new businesses may need additional liability coverage against employee lawsuits in the form of Employment Practices Liability Insurance (EPLI). Or, if the business requires manual labor from its employees, it may need workers' compensation coverage.
Here's another little-known fact among new business owners: They should consider purchasing a life insurance policy for the business. They may have an employee who is integral to operations, like an engineer who is developing a unique product or even a founder or co-founder. It's a good idea to purchase life insurance to prevent the untimely death of such individuals from having a severe negative financial impact on the company.
Risk management is undoubtedly complex, but there's no need for a new business owner to rely on trial and error. An insurance agent or broker can walk these prospects through different scenarios and different policy types to protect their business and can even share helpful risk management strategies.
No. 3: Develop a human resources department.
Investing in a human resources department can protect both employees and the new company. This step will help a new business set standards for hiring new talent, such as a multi-round interview process, required background check, and mandatory drug screenings. If employees are operating a vehicle for the company, HR professionals can request copies of their driving record to check for violations, DUIs, or SR-22s.
Additionally, a human resources team can build an employee handbook or a comprehensive list of employee standards of behavior and the consequences of the failure to adhere. This handbook should outline the serious consequences of harassment and discrimination and make a business practice of following those outlines as closely as possible. New businesses would be wise to make a practice of collecting the signed employee handbook from each new employee. There's a benefit to setting clear expectations on workplace conduct and mitigating exposure to wrongful termination suits.
Any new business owner owes it to their company, their employees, and their dream to think long-term. Insurance agents and brokers can serve as trusted advisors by helping entrepreneurs prepare early on with legal consultation, robust insurance and risk conversations, and direction on setting up a dedicated HR team. These steps will pave the way for the company's long-term, sustainable success as well as a long and fruitful client-advisor relationship.
Chaz Perera ([email protected]) is CEO and co-founder of Roots Automation. With more than 20 years of experience in insurance, digital transformation and automation, he's led teams with thousands of employees. Before founding Roots Automation, Perera was the chief transformation officer and head of Global Business Services for AIG, Inc.
See also: