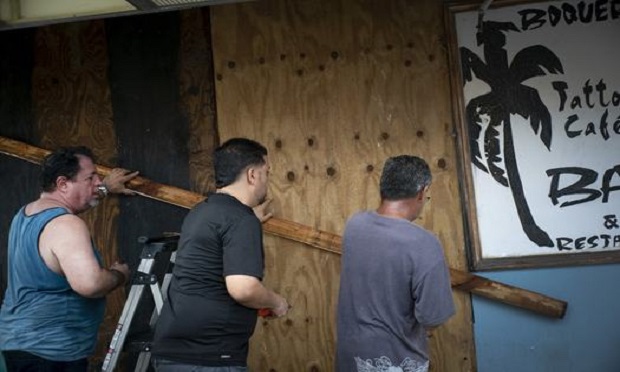 Now the strongest hurricane of the 2019 season so far, Hurricane Dorian is making its way towards Florida's east coast, packing winds of up to 110 mph. Forecasters say Dorian will likely make landfall as a Category 4 storm, threatening thousands of residents and billions in property damage, worsened by life-threatening storm surge.
According to Bloomberg Intelligence, Dorian's current path threatens counties with average insured values of $53 billion. Easing the concern around Dorian's potential destruction, a new report from Moody's asserts that Florida's state insurers are fiscally prepared for the projected Cat 4 storm
State-sponsored insurers fit to handle Dorian
Florida has three state-sponsored, insurance-related entities: Citizens Property Insurance Corporation, Florida Hurricane Catastrophe Fund Finance Corporation (FHCF) (State Board of Administration Finance Corporation), and Florida Insurance Guaranty Association. These three carriers primary insurance coverage to residents and businesses, along with reimbursement coverage and claims-paying assistance to private insurers.
These public state-sponsored insurance carriers provide critical stability to Florida's high-risk insurance market as many private insurers have fled in recent years following major storms.
A new assessment from Moody's concludes that all three of these public entities are fiscally prepared to handle the worst forecasts of Dorian thus far, as each has built up multiple sources of liquidity to pay claims of a large storm.
As of 2018, Citizens had claims-paying resources of $11.5 billion, including $6.4 billion in surplus/total liquid resources, nearly $1.5 billion of risk transfer through traditional reinsurance and capital markets risk transfer, and $2.2 billion in FHCF reimbursement.
FHCF has nearly $13.8 billion in total available resources for contract year 2019-2020, consisting of $11.2 billion in accumulated reimbursement premiums, $920 million of projected reinsurance and $1.7 billion from the Series 2013A and 2016A pre-event bonds, covering 81% of the fund's $17.0 billion reimbursement limit for the year.
For fiscal 2018, FIGA reported $288.9 million in available cash and investments to pay claims.
Hurricane prep tips from AAA
The preparedness of Floridian residents, however, can never be overestimated. A Cat 4 storm has the strength to tear roofs off houses, spawn deadly storm surge and flooding, and devastate entire communities. There are a number of ways to help minimize property damage, but first and foremost is to ensure personal safety by adhering to evacuation orders, if issued.
As Dorian makes its way to the Sunshine State's east coast, AAA is urging Floridians to prepare themselves and their properties, and has put forth the following prep tips:
First, when it comes to protecting your property, eliminate any projectiles:
Secure windows and doors with hurricane shutters or plywood.
Bring outdoor furniture and decorations inside.
Bring in all bikes and children's toys to prevent them from becoming projectiles or sustaining damage from the storm.
Trim trees or bushes that could cause damage to your home in case of high winds.
Moor your boat, trailer, gear and supplies.
Secondly, brace doors and openings:
Inspect the exterior of your home for minor repairs needed to roof, windows, down spouts, etc.
Look for cracks of light around window or door frames, which need to be sealed to prevent water invasion.
Brace your garage door from falling and close interior doors.
An opening in the house during a hurricane causes depressurization, which can cause a house to collapse or lose its roof.
Stack sandbags, and check with local authorities to determine if sand bags are being distributed to area residents. Fill and stack sandbags in front of doors and other openings to prevent flood waters from creeping inside your home.
Round up your records:
Gather important documents such as birth certificates, Social Security cards, insurance and mortgage documents, medical records, etc. Make sure these documents are in a safe place that's easily accessible.
In the case of an evacuation, ensure you bring these documents with you.
Gather supplies:
After the hurricane passes, you may lose access to basic services, such as power and water; so be sure to stock up on essentials now and build a disaster kit to last you and your family for a minimum of 7 days.
Water – Pack a minimum of 1 gallon per person per day for seven days.
Food – Non-perishable packaged or canned food and juices you can consume without cooking, in case of power outage.
Flashlights, Batteries and Chargers – Be sure to have flashlights, extra batteries, battery-powered radio, and cell phone chargers.
Withdraw cash – Remember, banks will be closed during the storm. If there is a loss of electricity, ATMs and credit card machines will be inoperable.
Keep your gas tank full. During extreme weather conditions, local gas stations may experience limited supplies, possible outages, and even closures. Make sure you are fueled up and prepared to respond to an emergency evacuation order.
Have some packaged snacks, such as granola, peanut butter and bread, on hand to feed the family as you wait out the storm.
Other essentials – Ensure you have all other medications, first aid kit, blankets, toiletries, diapers, and baby food, and supplies for your pets.
Pack prescriptions:
Pack a 7-10 day emergency supply of essential or priority medications stored in a waterproof, childproof container.
Include an up-to-date list, including all prescription medications, dosage amounts and the names of their generic equivalents, and known allergies
Pack any non-prescription drugs, including pain and fever relievers, diuretics, antihistamines, and antidiarrheal medications stored in childproof containers.
Related: